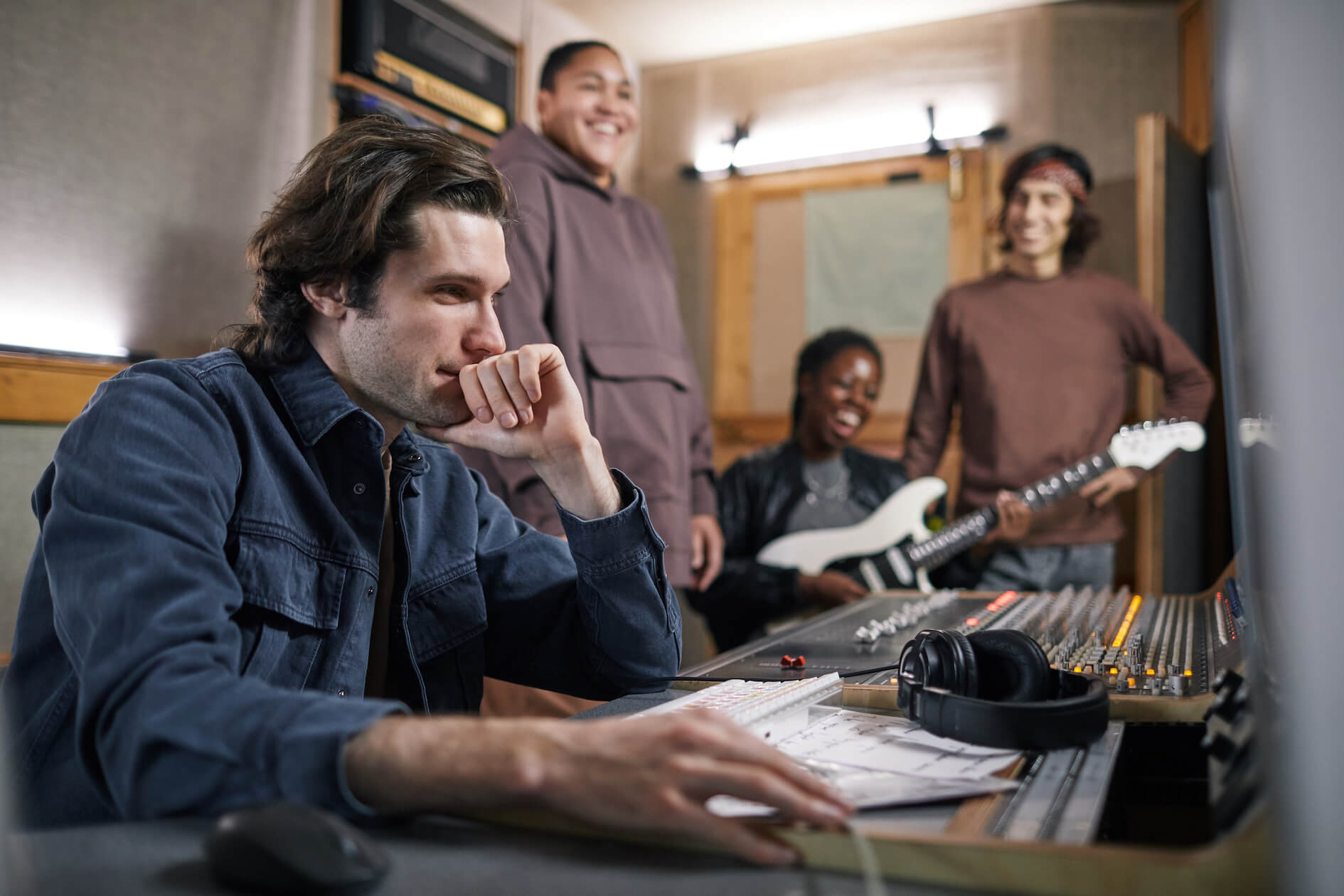 Success in the music industry is all about creating "buzz" for your art. And that means building a network of friends, colleagues, and fans. Whether you're a musician trying to get your start, or a music executive looking to make deals, the ability to effectively build a network for creatives is essential.
The best networking for musicians will help you get your foot in the door, land a gig, and stay up-to-date on the latest trends. It is imperative that you build a network of contacts, both in the arts and culture sector, and outside of it.
Here are some standard - and surprising - strategies to build your network and grow your music career.
1 - Get involved in your local music scene
No matter where you live, there is always a music scene of some sort happening nearby. Get out there and meet people. Go to shows, open mics, and anything else that sounds interesting. Not only will you discover new music, but you'll also get to know the people who are involved in the scene, at all levels.
You never know who you might meet and what opportunities might arise from those connections.
2 - Keep your ear to the ground
The music industry is always changing, and it can be hard to keep up with the latest trends. One of the best ways to stay ahead of the curve is to keep your ear to the ground.
Talk to people in the industry, read trade publications, and follow blogs and social media accounts that focus on music news. By doing this, you'll not only learn what's going on in the industry, but you'll also get an idea of who the key players are.
3 - Attend industry events
There are always industry events happening, especially in larger cities. These can be great networking opportunities, as they bring together people from all different parts of the music industry.
Do some research and see if there are any networking events happening that you can attend. If you're not sure where to start, search online for where your favorite music industry leaders are speaking. Many of them probably have their own website, and these often have "Where I'm speaking" pages or "Events" pages.
4 - Join an organization for music industry professionals
There are many different organizations that cater to the needs of music professionals. These can be great places to network, as they provide an opportunity to meet people with similar interests and goals.
Some examples of professional organizations in the music industry include:
The Recording Academy
American Society of Composers
Authors and Publishers (ASCAP)
Broadcast Music, Inc. (BMI)
5 - Join an organization for arts and culture industry professionals
It can be easy to get caught up in the music industry bubble, and only focus on networking with people who are directly involved in the business. Make an effort to connect with people outside of the music industry.
There are many "arts and culture" professional organizations that can be great networking opportunities. These organizations usually have a wider focus, and their members often come from different disciplines within the arts.
This could include people who work in other creative fields, such as fashion, film, or advertising. It could also include people who work in non-creative fields, such as business or law. The connections you make outside of the music industry can often lead to unexpected opportunities.
Some examples of arts and culture professional organizations include:
Americans for the Arts
Association of Performing Arts Professionals
Society for Arts Administration Educators
6 - Use social media
Social media can be a great way to connect with people in the music industry and in related industries.
There are many music-related hashtags you can follow on Twitter and Instagram, for instance, that will help you find people with similar interests. You can also use Twitter to connect with journalists.
LinkedIn is another great social media platform for networking, as it allows you to connect with people in a more professional setting.
7 - Start your own blog or podcast
A blog or podcast gives you a platform to share your thoughts and opinions on the latest industry news and to let people know what you are currently up to.
Not only will this help you connect with other like-minded people, it will also give you some credibility within the industry. If your blog or podcast becomes popular, you may even have the opportunity to interview industry professionals and booking agents. These interviews are some of the best ways to expand your network.
8 - Volunteer your time
Most arts-related organizations are always looking for volunteers.
By giving your time, you'll not only be helping out a good cause, but you'll also get to meet people who are involved in that part of the industry. This can be a great way to make connections and learn more about other aspects of the music business.
9 - Get involved in online communities
The music industry has a huge online presence, so it's important to build your own digital footprint as well. You can find many online communities for music and arts professionals such as in Reddit, LinkedIn, Facebook, and other forums. These can be great places to connect with people, share ideas, and learn about new opportunities.
10 - Make a "top 100" list
Create a list of 100 people you want to meet, and organizations with whom you want to connect. Every day, do something to put yourself in a position to make those connections a reality, from sending an email to making a phone call. Even if you don't get an immediate response, or the meeting doesn't happen right away, you'll be surprised how many doors will open over time by simply taking action.
11 - Be persistent
The music industry can be tough to crack, but if you're persistent and put in the work, good things will eventually happen. Keep networking, building relationships, and putting yourself out there, and eventually you'll start to see results.
Having an optimistic mindset is a tremendous asset as well. If you truly believe in your talent and in your ability to make it in the music industry, that positivity will shine through, and people will take notice.
12 - Stay up to date with industry news
One of the best ways to network is to simply be well-informed. Knowing what's going on in the industry will make you more interesting to talk to, and it will also help you identify potential opportunities. There are a number of ways to stay up to date, such as reading industry news websites, following relevant people on social media, and subscribing to newsletters.
13 - Give back to the community
One of the best ways to build a strong network is to simply give back to the community. Whether you volunteer your time, share your knowledge, or support others in their endeavors, sharing their work freely, your generosity will be appreciated and remembered. Not only will you make a difference, but you'll also build goodwill and create opportunities for yourself down the road.
Networking tips
Of course, networking isn't just about meeting people and making connections. It's primarily about building and nurturing relationships. The best networking relationships are built on trust and mutual respect. When you take the time to get to know someone, and they do the same for you, that's when real opportunities start to arise.
Once you start to meet people face to face - online or in person - here are a few things to keep in mind:
Practice an outstanding, memorable elevator pitch. Whom do you serve, why, and how? Be prepared to share it in a concise manner at the drop of a hat
Always have a business card ready with your email address and a phone number. These days virtual business cards - or a personal website with a QR code - are the way to go, but paper cards are still accepted and can be useful
Make sure your contact information is readily available everywhere - in your email signature, on your website, on any programs or flyers you print... everywhere. Make it easy for people to contact you
Practice public speaking - and get coached if necessary - so you are comfortable talking to anyone about anything at any time
Every time you meet someone new, think about how the relationship can be mutually beneficial. What can you do to support them - that should be your first priority - but also be prepared if they ask how they can support you
The most important thing to remember is that networking is a two-way street. It's not just about finding someone who can help you; it's about helping others as well. You'll create buzz around your art when you have friends, colleagues, and fans who trust you, respect you, and love your art.