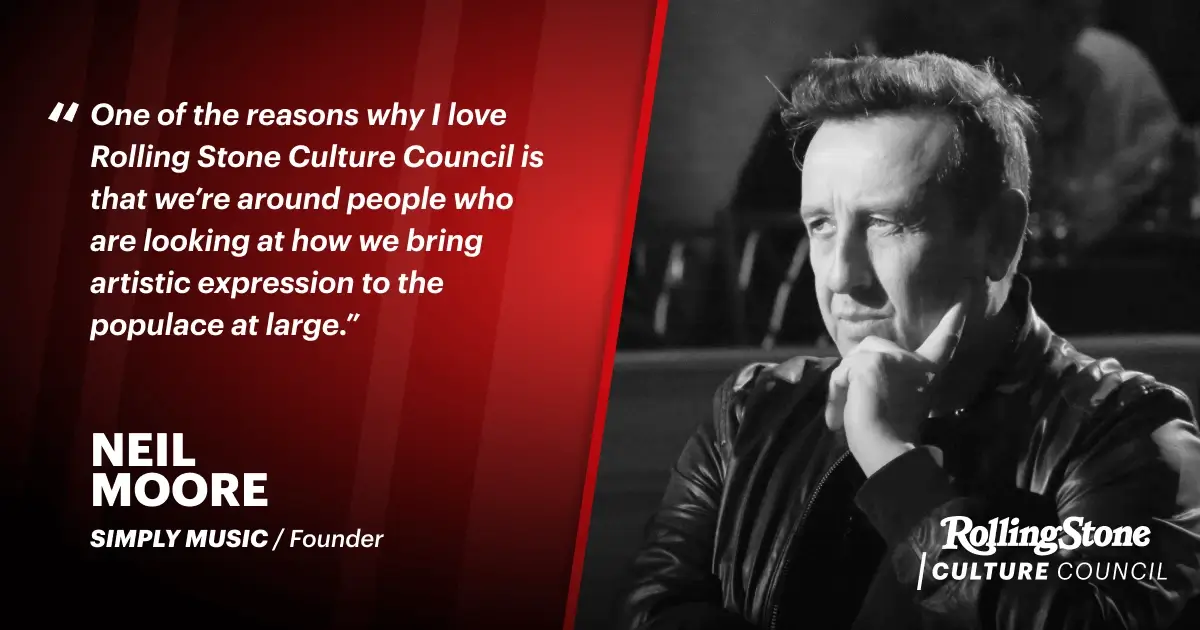 Neil Moore was just a child when he first realized that he saw two- and three-dimensional shapes whenever he listened to music. "I could see those shapes just unfolding across the keyboard," says Moore. "I didn't need to learn how to read music — the page was intimidating and utterly unnecessary." As an adult, he found that he could explain to others how he "saw" music so that they could have the same experience. "It completely transforms how quickly people are able to learn music," says Moore. "Over a period of twenty years, I developed it into a system of education and then a system of training teachers to teach." His company, Simply Music, trains and coaches piano teachers, connects students with teachers, and offers an online self-study program.
While Moore, who is Australian, was always deeply connected to music, he was a restaurateur from early adulthood into his mid-thirties. His goal: do well enough so that he could retire young and then devote himself to music. But when the stock market crashed in the eighties, he lost everything, including his home and his cars. The financial devastation gave him some valuable insight. "I'd been pursuing businesses to make money to do what I love, and it suddenly occurred to me that it was a broken equation," he says. "I said, 'from this day forward, I'm just going to pursue music,' and I didn't really even know what that meant."
With no formal understanding of music theory and unable to read music, Moore began learning those traditional skills to make himself more marketable in the world of music. He found a teacher who had developed a new method of reading music and trained with him to learn his system and then teach it. Shortly thereafter, he packed up his wife and three children and, with a mere $5,000 to his name, fulfilled a long-time dream of moving to the U.S. "People thought I was crazy," he says. "But I knew this is what I was meant to do." He ran an ad in a local Sacramento paper, quickly built a studio of students, and earned a reputation as a great teacher.
"My lane is great musicianship but ultimately, my intent is that we elevate the creative capability of humanity. We can't do this without being connected with people in all sorts of industries who are leaders in their field who are doing something about moving us forward in that direction."
Everything changed for Moore when he was called upon to teach music to an eight-year-old blind child. That challenge compelled him to sit down at the piano and think about his own experience as a child, playing an instrument without reading music. "I started to bring an explanation to myself and I thought 'I bet I can show this boy how to feel the shapes on the instrument.' I tried it and it worked." The boy not only started playing a whole repertoire after a few months, but began teaching music to his four-year-old blind sister. It was an epiphany that still gives Moore chills.
He started sharing the newly developed concepts with his other students, and then training other music educators to do the same. Teachers were thrilled with the results; students were learning quickly and easily and playing high-quality music. "It wasn't until then that I thought, 'I think this is what I'm here to do; I've got to pursue this,'" says Moore. His unique method could be used as a foundation — an antidote to stressful and often ineffective music education that begins with reading music.
Moore worked 18-20 hours a day over several years to develop a curriculum and launched Simply Music in 1998. He added a distance-based teacher training program in 2010, and now has teachers in 700 locations in 12 countries. There's also a self-study program that includes a free foundation course. "I'm of the view that creative musicianship provides the most powerful and critical source of neurological nutrition that directly impacts our creative capability," says Moore. "The critical currency of the future is creativity."
"One of the reasons why I love Rolling Stone Culture Council is that we're around people who are looking at how we bring artistic expression to the populace at large," says Moore. It's important, he notes, to connect with people from a broad variety of backgrounds and industries. "My lane is great musicianship but ultimately, my intent is that we elevate the creative capability of humanity," he says. "We can't do this without being connected with people in all sorts of industries who are leaders in their field who are doing something about moving us forward in that direction."