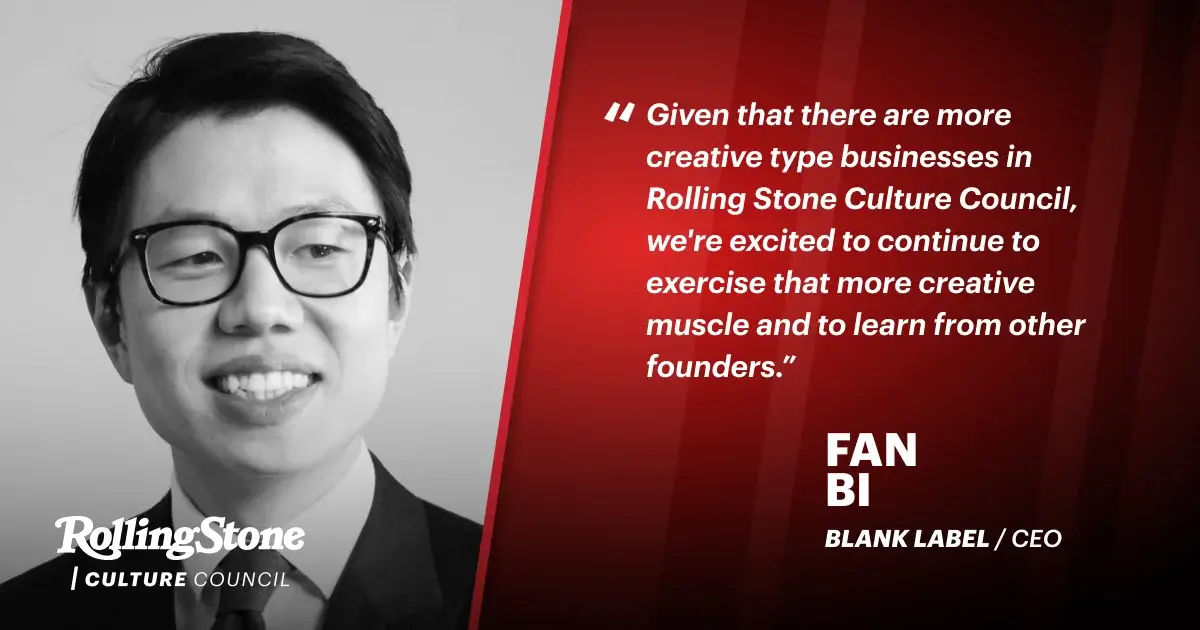 For Fan Bi, co-founder of the custom clothier Blank Label, it's tough to imagine a more challenging year than 2020. With sweat pants and pullovers supplanting dress shirts and trousers for the lion's share of his company's customers, Bi has been forced to do some serious pivoting. Fortunately, he's good at that.
Bi and his co-founder Danny Wong, who is no longer involved with the company, started Blank Label in 2010 as an online custom shirt maker catering to the young and hip. "E-commerce direct to consumer was still pretty early," he says. "We thought there was an easier, more affordable way to deliver custom dress shirts, which was always a kind of very stodgy, and very expensive product," says Bi. They were inspired by direct-to-consumer pioneers such as Bonobos and grew their business online for the first three years.
And then came the company's first big pivot. Bi had made some assumptions about the company's core customer base that turned out to be inaccurate. It wasn't young, edgy customers who were Blank Label's best customers, but traditional professionals who were buying ten shirts and a couple of trousers a year, in addition to an occasional sports jacket. And that demographic was less comfortable with buying custom clothing online than were younger customers.
In response to that new information, Bi launched what he calls "the second version of the business." He began opening brick and mortar stores and expanded into men's suiting, chinos, outerwear, and wedding tuxedos. "We opened about a store a year and peaked at six stores, mostly on the East Coast," he says. "The business grew every year for the ten years that we've been in business. The plan was to continue to open more stores."
"I thought that [Rolling Stone Culture Council] was a really interesting place to connect with more creative founders and operators, as well as to get some exposure at an amazing publisher."
COVID threw a wrench into those plans. "Operationally and psychologically, it's been a very challenging year," says Bi. "We're down 80% compared to last year, which no one ever models." In March, customers began cancelling appointments to come into the stores to be measured, and some even asked to cancel orders. Bi's mentors were bearish about the economic outlook for the retail sector, and advised him to be prepared to "hit the eject button." In mid-April, he made the painful decision to close the retail stores and reduce headcount from 30 to just a handful of employees.
To keep the lights on, Bi jumped on a new line of business — face masks. Leveraging a database of 100,000 emails and a 30,000+ client list, plus his relationships with factories in China, Bi marketed the masks aggressively starting in April and says he landed more than 1,000 orders in the first couple of hours. In addition to b2c, Bi is also selling bulk branded masks to corporations and he expects that b2b business to expand in 2021 as companies gradually bring employees back into the office. Masks, he says will probably be 30-40% of Blank Label's revenues this year.
While Bi does not expect his core business to recover until at least 2022, he feels confident that customer loyalty will ultimately be the company's lifeline. "Ultimately for us it comes down to high-touch service," says Bi. "That's really the one way we've been able to grow — by keeping clients." And while customers may not be going into the office five days a week and wearing suits, they still need more casual items and outerwear. "We definitely try to build out the product category to match the customer where he is today," says Bi.
In the meantime, Bi says he's keen to take advantage of what he sees as a golden opportunity to acquire other e-commerce brands that may also be suffering. "We've talked to a handful of founders who are really interested in selling and hopefully we can be a home for them," says Bi. "We're committing to keeping their brand as a standalone brand so their legacy will continue."
A new member of Rolling Stone Culture Council, Bi says he "thought that this was a really interesting place to connect with more creative founders and operators, as well as to get some exposure at an amazing publisher." He plans to contribute content and is already engaging with fellow members on the forum. "We love talking shop with any founder," he says. "And given that there are more creative-type businesses in Rolling Stone Culture Council, we're excited to continue to exercise that more creative muscle and to learn from other founders."