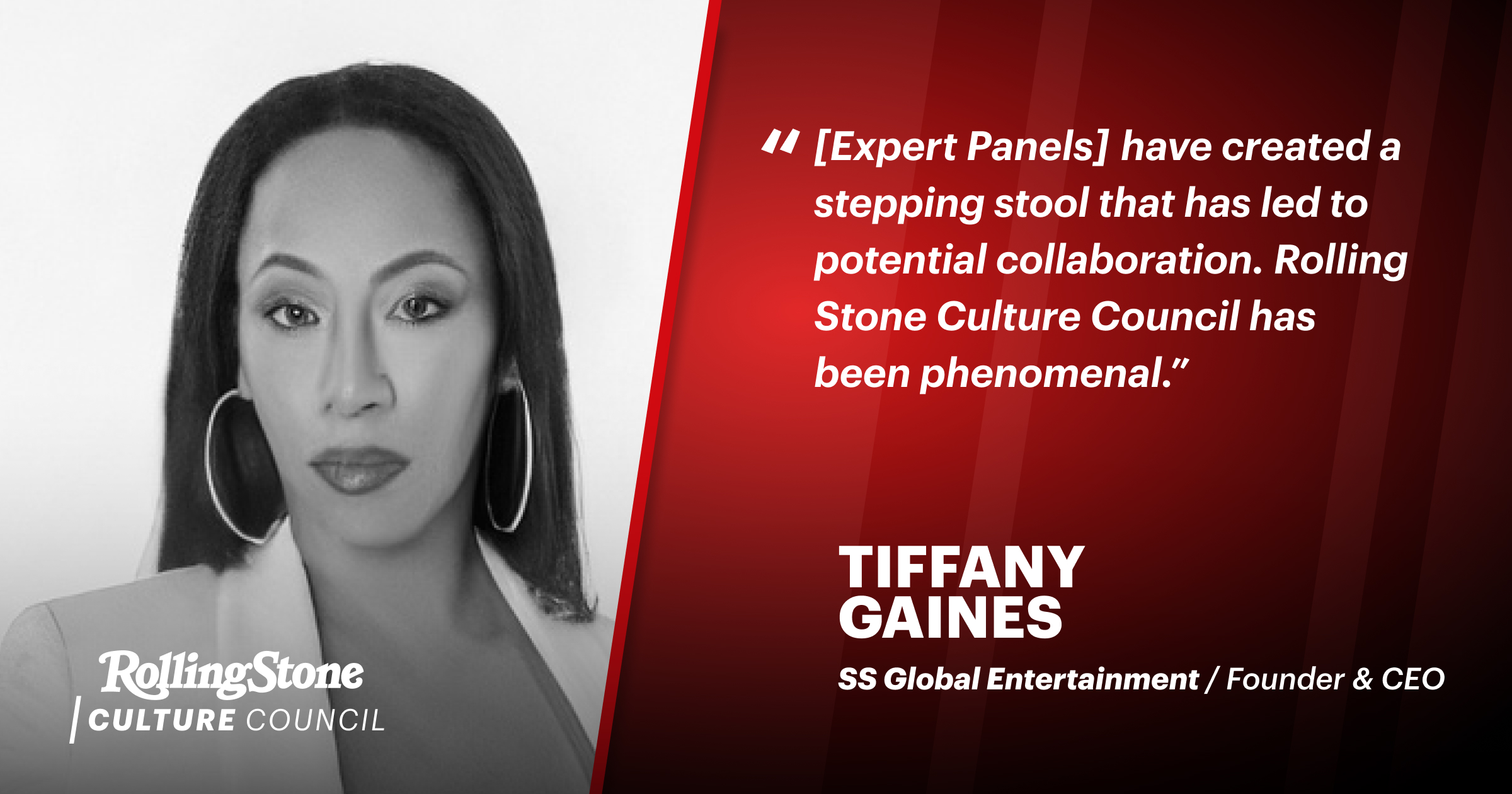 Tiffany Gaines always knew she wanted to be in the spotlight, so a career as a fashion model seemed like just the ticket. She signed a one year contract with a major agency and started out as a model for Baby Phat. But that dream was short-lived. "I found out how they treated models," Gaines recalls. "That wasn't who I wanted to be around or how I wanted to represent myself." She was shocked by the levels of anxiety and depression among her peers. Worse, dealing with sexual advances was viewed by many as "coming with the territory."
Those revelations were the catalyst for Gaines to launch her own company, Blasia's Entertainment, in 2001. Her goal: "to create a safe space where females could walk into a situation, look for opportunities in entertainment and music and not feel that they were viewed as a piece of property," says Gaines. Blasia's (named for Gaines' ethnicity — Black and Asian) was an entertainment agency that provided talent for major celebrity events. Leveraging her contacts from the modeling industry, including the models with whom she worked, Gaines booked artists, models, musicians, and DJs at big venues, forging partnerships with companies such as Live Nation, Interscope, and Atlantic. Along the way, she earned a reputation for treating artists fairly and with respect.
A few years later, she rebranded her company as SS Global Entertainment, partly to look and sound more professional, but also to emphasize what she believed was her competitive advantage: SS stands for shared success. "I always say that the power is in building mutually beneficial partnerships through collaboration," she says.
"When I started publishing, people would reach out to me simply because I was being featured [in Expert Panels]."
During the time of that transition, she also culled her client roster and delved into a new niche — digital music distribution. Currently, the company works with more than 6,000 artists, helping them get their music on platforms such as Spotify, iTunes, and Amazon Prime. "Instead of teaching them from the perspective of being musicians, I switch their perspective and say 'you're actually an entrepreneur and a small business owner and how are we going to monetize all of your brand potential?' Most artists think they need managers but they don't. They just need structure."
Gaines employs 88 talent scouts who do the administrative work to manage her clients, and who may have up to 200 submissions a week that need to be placed on various platforms. That frees her up for the hard work of doing strategy and publicity work for such high profile clients as Chris Brown, Lauryn Hill, and Missy Elliot, to name just a few. She's also been working with "Freeway" Rick Ross since 2012 as a key member of his management team. A convicted drug trafficker, Ross was released on appeal from a life-time prison sentence and needed to reinvent himself. Gaines helped him brand himself as a prison reform activist and motivational speaker, encouraging him to tell his redemption story to students, literacy groups, and others who may be headed down the same path that landed him in prison.
The pandemic, says Gaines, was very good for business. "I didn't have to be on the road, stuck in traffic, and I didn't have to fly anywhere," she says. "I could literally finish five meetings in one day and close all five of those deals within a week." And she used her free time to focus on specific social media marketing campaigns that increased stream counts and, hence, profits for SS. As a result, her clients, programs, profits, and strategic partnerships all skyrocketed.
Gaines points to her passion for collaboration and relationship building as key reasons for joining Rolling Stone Culture Council. She's connected with multiple members with whom she is now working. "Rolling Stone Culture Council has allowed me to secure mutually beneficial partnerships with other members who share like-minded goals and interests in both the music and entertainment, as well as the cannabis industry," she says. Publishing thought leadership through Expert Panels has also been fruitful. "When I started publishing, people would reach out to me simply because I was being featured [in Expert Panels]," Gaines says. "So that alone has created a stepping stool that has led to potential collaboration. Rolling Stone Culture Council has been phenomenal."