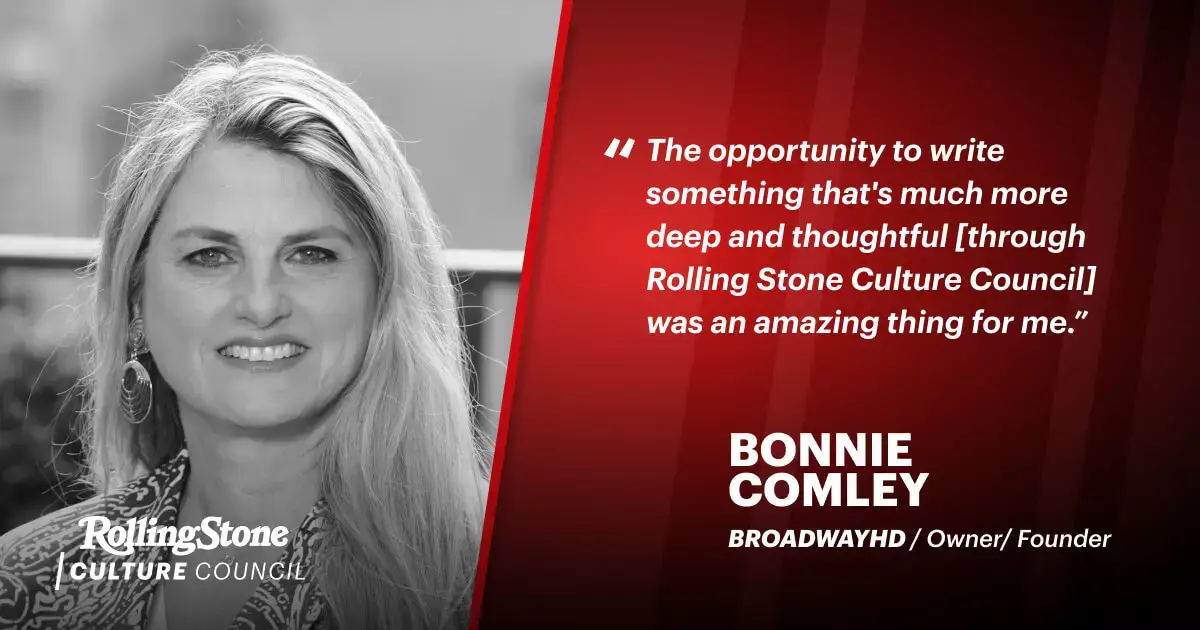 Bonnie Comley, a three-time Tony Award-winning producer, started out as an actress and on-camera entertainment reporter. Her husband, Broadway producer Stewart F. Lane, was all about theater. "He and I had always looked for a way to blend the theater with TV and film," says Comley. BroadwayHD, the first online streaming platform to offer full-length musicals and plays, is the marriage of their respective passions.
The company evolved over time; its seeds were planted ten years ago when Comley and Lane started doing digital captures of Broadway shows, many of which they had been involved in. "They were critically acclaimed and people loved them," says Comley. "We wanted to do more of them but it was just really hard to make a business out of it." At the time, streaming was becoming more popular, so the two decided to build a technology platform that would aggregate digital captures of live theater. BroadwayHD launched in 2015 with more than 100 plays and musicals, earning Comley and Lane a place in the Guiness Book of World Records for the first Broadway show to be live-streamed.
"It's an art form, blending what's on stage with a TV crew," says Comley. She and Lane didn't invent this type of content — PBS and the BBC have been doing it for decades. But digital captures of live theater are expensive, invasive, and logistically complex. Broadway, for instance, is unionized, which meant that Comley and Lane had to negotiate with many different unions before a digital capture could take place. It helped that the partners were viewed as industry insiders. "We produce for the live stage as well," says Comley. "So our core, our mission, has always been to promote and preserve live theater and to drive people to live theater. BroadwayHD is just a community for people who love theater."
>Still, there was initial trepidation that digital content would cannibalize live ticket sales. "Producers have been hesitant to put a digital version of their show in theaters online, while they're trying to sell tickets for $125," says Comley. For $100, BroadwayHD subscribers can now access 350 shows on the platform. But Comley says there's anecdotal evidence that viewing a digital version of a play or musical actually encourages people to go to the theater since the risk of buying a pricey ticket is mitigated by seeing a streaming version of the show first. "You now see films being released simultaneously in movie theaters and streaming," says Comley.
"As the CEO of a media technology company, I'm always interested in what other founders and leaders in the entertainment space are talking about."
When BroadwayHD first launched, the partners assumed that their target market would be New York City area theater fans, but it turned out that they were attracting a much broader audience. "Within about three days of us launching in 2015, we had people we had people reaching out through customer service and social media saying, 'I'm trying to watch your shows, but you don't take my currency,'" says Comley. "Because we were the first to market with this, everyone who wanted this type of content was finding out about it. It was really amazing."
The pandemic was a boon for streaming platforms and BroadwayHD was no exception. The company experienced a big surge in subscribers. It was able to handle the influx because Comley had been refining the platform to accommodate growth all along. For instance, a new technology stack was up and running by the end of 2019 in anticipation of holiday gift-giving. So when live theater-producing companies decided to embrace streaming during the pandemic, BroadwayHD was ready. Comley had been trying to convince producers for years that a digital capture would be their greatest marketing asset, in the same way that a cast recording is an asset for a musical. They finally seemed willing to listen.
While Comley expects business to dip over the summer as people come out of lockdown and seek out in-person experiences, she thinks that long-term change is in the air. She believes that live theater productions will run their digital captures simultaneously and use them to propel people to the box office. "We saw it with Hamilton on Disney Plus," she says.
Comley was attracted to Rolling Stone Culture Council partly because she wanted to write long-form content that expressed her unique point of view. "The opportunity to write something that's much more deep and thoughtful was an amazing thing for me," she says. "And as the CEO of a media technology company, I'm always interested in what other founders and leaders in the entertainment space are talking about."