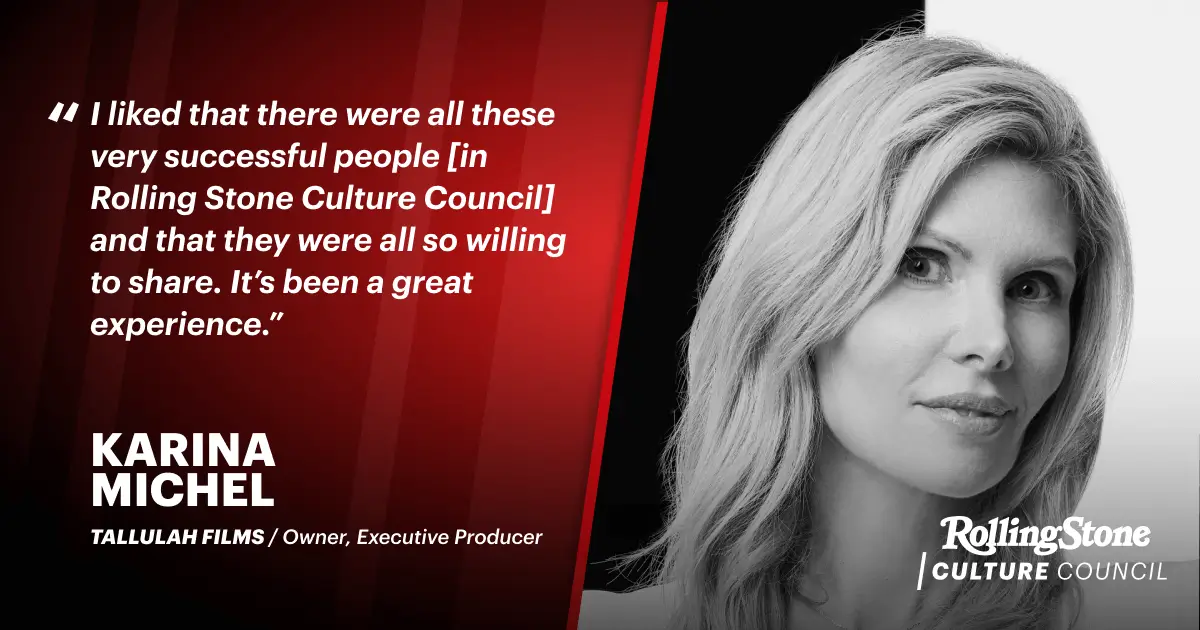 Once an aspiring actress, Karina Michel found her way to producing through a commercial she made for the business she started with her husband, Fresh Patch, which makes real grass training pads for dogs. That was eleven years ago and Fresh Patch has grown exponentially, along with Michel's producing career. The commercial had opened her eyes to the possibility of a career in film on the other side of the camera, so she decided to pursue other projects.
She launched Tallulah Films in 2010 and started producing short films. Her first project, called Enough, chronicled the story of a girl who suffered from an eating disorder. "Having been a model, I never suffered myself, but I'd seen a lot," says Michel. "The film ended up doing pretty well at some women's festivals and I thought it was really cool that I could do something like this and help others." As a producer, Michel's role is to bring together all the elements that go into making a film — directors, entrepreneurs, investors, and screenwriters, for example. "I learned firsthand from just watching and being in meetings," Michel says. "And I just soaked up everything I could that was online and by doing different webinars."
Subsequent films included Little Miss Sumo, the story of a female sumo wrestler. "It ended up going to the Tribeca Film Festival in New York," says Michel. "It had huge outreach and was so cool for women's empowerment." As the mother of two daughters, that's important to her. Another film, 54 Days, deals with suicide and "was important to me because I lost a friend last year," she says.
The pandemic has been tough on Tallulah Films, partly because many of Michel's projects are filmed in the UK. "Thank God we didn't have anything in production," she says. "But it set us back. There were no film festivals, and that was probably the hardest part." There was a silver lining, however. Michel is based in Florida, far from New York and LA, the film industry's epicenters. But when everything went virtual, the playing field was leveled and she found herself being able to participate in screenings from home.
"I love reading [Expert Panels] to see what people are saying and sharing because a lot of the time, they're in industries that are different from mine."
To keep herself relevant and in the loop, Michel started a podcast called Coffee with Karina, in which she interviews people in the entertainment industry about their success journeys. "I knew nothing at all about podcasts," she says. "So I just taught myself and it's really been picking up." She also wrote a book during the pandemic. Meet Nashville's Rising Stars: A Collection of Inspirational Interviews from 25 of Nashville's Rising Stars was inspired by her love of Nashville. "I'm always amazed at the amount of talent there," she says. She had been writing about rising stars for Authority Magazine, a Medium publication, and "it just kept blooming into something bigger so I thought I'd do a book."
While the pandemic was not kind to the film industry, the pet industry flourished and so did Fresh Patch. "Everybody was at home in their apartments and didn't want to leave, so it was tough to walk dogs," says Michel who is co-owner and vice president of the company. "So Fresh Patch became much more popular. We really grew during that time." Michel's husband Andrew Feld, came up with the idea 11 years ago and started growing the grass pads himself, and selling them out of the family car in Miami. The product is now shipped all over the country and frequently gets a boost in exposure with the re-airing of a Shark Tank episode that Feld appeared on seven years ago. Michel notes that she helped produce the video that landed him a spot on the show.
As a member of Rolling Stone Culture Council, Michel says she "liked that there were all these very successful people and that they were all so willing to share. Everybody has so much great information. It's been a great experience." She has both contributed by-lined articles and shared her thoughts via Expert Panels, where she has also been exposed to a variety of views on relevant business topics. "I love reading them to see what people are saying and sharing because a lot of the time, they're in industries that are different from mine. "