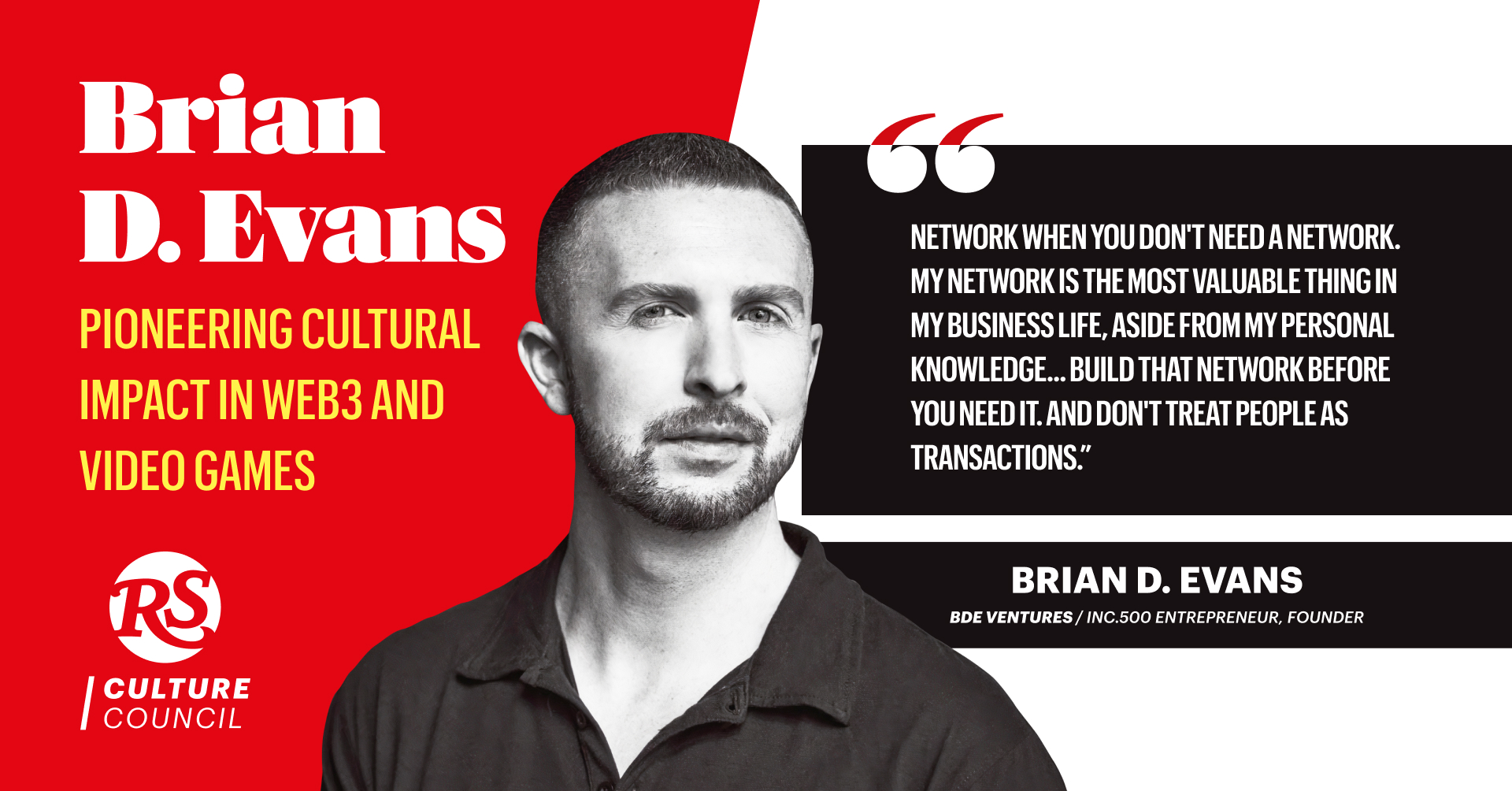 Meet Brian D. Evans, the visionary entrepreneur behind BDE Ventures, a web3 and video game-focused advisory firm, and investment/incubator. With over two decades of experience in the advertising and marketing industry, Brian's drive to explore uncharted territories led him to the forefront of the web3 revolution.
Transitioning from his initial career, Brian emphasizes the challenges and opportunities in the world of web3. "It takes a tremendous amount of education to help onboard people," he notes, highlighting the importance of education in the ever-evolving web3 landscape. Through BDE Ventures, he provides advisory services and invests in groundbreaking projects like Alpha District, a web3 game developed by a stellar team rivaling traditional AAA game studios.
Building on his commitment to the community, Brian shares key advice. "Network when you don't need a network," he advises aspiring entrepreneurs, underlining the significance of building and nurturing relationships proactively. This philosophy extends to his views on authenticity, as he focuses on providing value and engaging in genuine interactions with his audience.
Brian's approach to social media reflects his unique business values and remains in line with his philosophy.
"I've always focused on value to the end audience and engaging them in two-way social relationships," he shares, explaining his unique approach to social media. With a substantial online following, he leverages Twitter (X) as the world's Town Hall, where he fosters conversations and drives adoption in the web3 and gaming industries.
Reflecting on his professional growth, Brian's journey from the advertising and marketing industry to web3 and gaming serves as an inspiring example of entrepreneurial evolution. "I got started in the advertising marketing world over 20 years ago, and built my company up to ranking in the top 25 fastest-growing advertising and marketing agencies in America," he shares. This transformation showcases the power of adaptability and curiosity in a rapidly changing business landscape.
Brian's participation in the Rolling Stone Culture Council further exemplifies his commitment to thought leadership; "I'm all about brand building, thought leadership, and education," he explains. The council allows him to connect with a diverse business audience and offer insights beyond his industry, contributing to a broader cultural conversation.
Evans continues to make his mark in the web3 and gaming space, demonstrating the essence of success—driving cultural influence, fostering education, and leaving an indelible impact on global culture. With BDE Ventures as his vehicle, he paves the way for innovation, progress, and a brighter future in the dynamic world of web3 and video games.
Brian will also assume a pivotal role as one of the three judges on the Web3 reality TV show, "The Next Crypto Gem," set to air Sept. 7. His journey serves as an inspiration for entrepreneurs, reminding them to embrace change, remain authentic, and always strive for cultural influence in their respective industries.
Join the fastest-growing professional arts and culture organization, full of industry-disrupting founders, Rolling Stone Culture Council. Click here to see if you qualify.