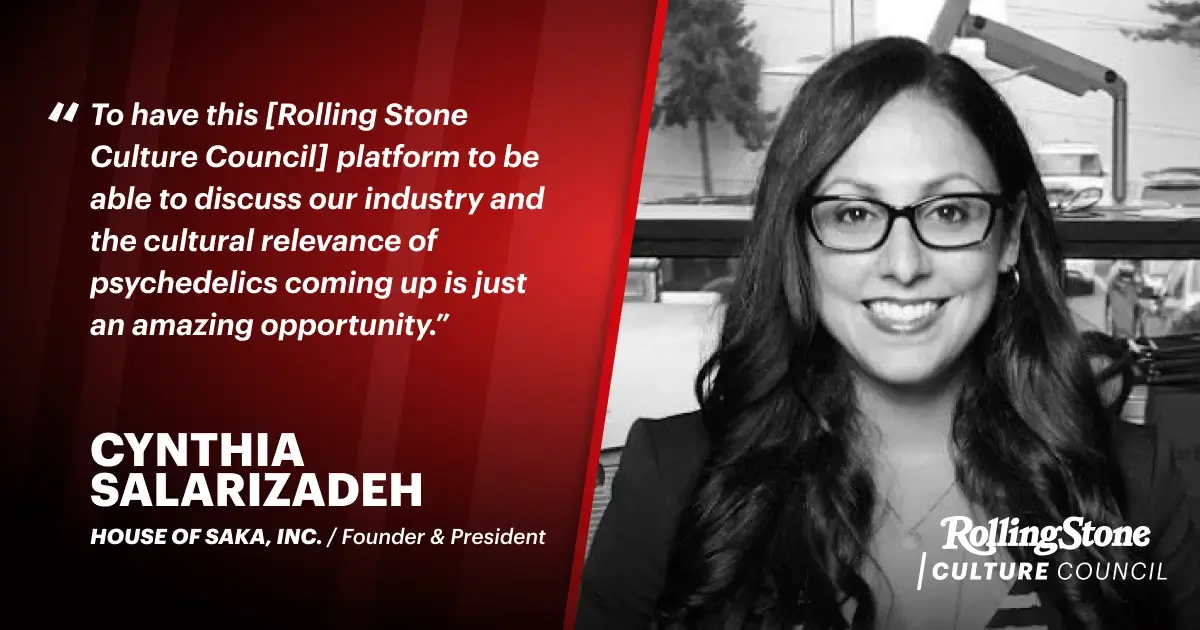 Cynthia Salarizadeh first decided to work in the cannabis industry because she wanted to deploy her public relations and marketing skills to marshall support for legalization. "It was a public relations campaign called Reefer Madness that placed cannabis in prohibition," she says. "It made sense that it would require that same approach to unravel it so that we could move legislation to create the industry."
She had worked in PR for several years and, in 2014, signed on as director of public relations for CannaFundr, the industry's first online crowdfunding platform that connected cannabis entrepreneurs with accredited investors. A year later, the company was acquired and Salarizadeh decided to start her own PR company, Salar Media Group, focusing on cannabis and hemp.
As part of her work, Salarizadeh published a yearly cannabis trends report which often revealed voids in the industry. "But most importantly, I would go to pitch media and at the time, publications were simply not allowing cannabis to be written about," she says. Her solution was to launch her own new source, called Green Market Report, with financial journalist Debra Borchardt. A year later, she co-founded AxisWire, an online news distribution platform that focused on cannabis, hemp, and psychedelics. Traditional distribution channels, she says, were resistant to distributing news related to her industry. "Everything I built, I built out of need," says Salarizadeh.
When Salar Media Group was acquired by KCSA Strategic Communications in 2018, Salarizadeh decided that it was time to explore another side of the cannabis industry. She had spent her career promoting cannabis businesses, improving valuations, and trying to convince clients that cannabis branding was in dire need of a makeover. "I thought, 'why am I doing that for everyone else when I can simply do it myself,'" she says. "House of Saka was me taking a shot at doing it right."
House of Saka makes cannabis-infused beverages (legally, they can't be called wine) — a pursuit that Salarizadeh set her sights on when she realized that cannabis-infused beverages represent only 1% of industry sales. "That's ridiculously low," she says. "However, billions of investment dollars are going into beverages. Why? Because it's the future." Up until recently, cannabis beverages tasted like "swamp bong water," says Salarizadeh. But new emulsification technology reduces the smell and taste of cannabis, making the alcohol-free drinks far more palatable. Moreover, the technology makes dosing consistent and predictable. "The cannabis hits your body within 15 minutes, and it's gone within an hour and a half," says Salarizadeh. And there's a bonus: because the beverage contains no sugar, a serving is just 14 calories, compared to approximately 150 in a glass of wine.
"To have a publication in the mainstream that will touch cannabis on this level — Rolling Stone has been one of the only ones to step up."
That's not to say that producing the product is easy — far from it. It took Salarizadeh and her co-founder, wine industry veteran Tracey Mason, a year to find a partner who could legally produce the product, and then another nine months to find a distributor. "It was an absolute nightmare, but totally worth it," she says. The production process involves removing the alcohol from the wine, purchased from a Napa Valley vineyard, and then building the flavor profile back after the product is infused with THC and CBD. Distribution was a challenge because traditional channels had no way to handle large glass bottles; most products that go to dispensaries are unbreakable. The problem was solved when a group of cannabis beverage makers launched their own distributorship.
House of Saka currently makes three products — Pink, White, and a single-serve product called Spark Mimosa, named for the Mimosa strain of marijuana that it contains, not the champagne drink because that would be, well, illegal. The vibe and the branding are intentionally upscale and female. "Our business plan doesn't include being in every dispensary possible," says Salarizadeh. "We're more exclusive to our demographic, which is probably a more affluent and definitely female customer." While distribution is currently limited to California, the company is getting ready to expand across the U.S. and internationally.
Salarizadeh was drawn to Rolling Stone Culture Council because "to have this platform to be able to discuss our industry and the cultural relevance of psychedelics coming up is just an amazing opportunity. To have a publication in the mainstream that will touch cannabis on this level — Rolling Stone has been one of the only ones to step up." As a contributor, she's received great feedback. "[Expert Forums] have been great, and everybody on social media loves them, too," she says. As a cannabis entrepreneur, she sometimes feels isolated in her industry and finds it valuable to connect with Culture Council members in other fields. "It's the other industries that help us grow our industry," she says. "I pull from other areas and it makes whatever I'm working on so much more robust."