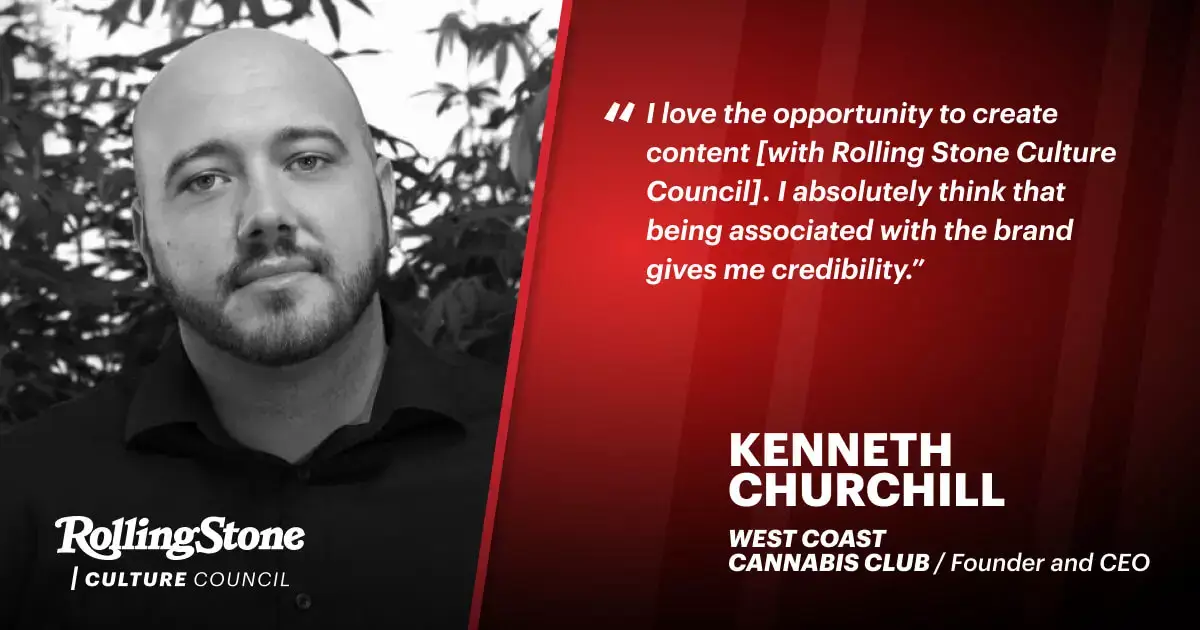 Ken Churchill had risen through the ranks at Chipotle Mexican Grill, from prep cook to area manager, when he started doing a little soul-searching. Did he really want to be in the restaurant industry long-term? "It was a lot of fun but it wasn't my passion at all," says Churchill. So he decided to move from Nebraska to California and crash on a friend's sofa while he contemplated starting a business of his own. "I came out here without an idea of exactly what kind of a business I wanted to start," he says. "I just knew that was my passion. I always wanted to own my own business."
It was 2015 and Churchill and his friend, Tom Lopez, decided to join the ranks of the growing number of cannabis entrepreneurs. With another friend, Josh DiSalle, they rustled up $10,000 to rent an office and started a delivery service for medical cannabis in San Diego. One of his most memorable customers, says Churchill, was a family using a cannabis product for their son who was suffering from epileptic seizures. "Just to hear them tell us how much of an impact we were able to have on them is worth everything to me," he says.
By the end of 2015, the partners decided to move to Cathedral City, one of the first cities in California to license cannabis storefronts, and open up a retail location. "At that time, there were about 13 dispensaries in all of Coachella Valley (with about 500,000 people during the summer and about 800,000 people during the winter)," says Churchill. "So there wasn't a significant amount of competition."
Their business, West Coast Cannabis Club (WCCC), grew steadily but got a big boost when the sale of recreational cannabis became legal in California in 2018. "On January 1, 2018, we actually had the first recreational sale in California history at our Cathedral City store at 6 a.m.," says Churchill. "We had a line at four o'clock in the morning of people just waiting to get those first recreational transactions. That was a really big moment."
Up until then, the partners had been buying cannabis products from other suppliers, but legalization for recreational use paved the way for vertical integration. They secured two additional licenses — one for another retail facility, and the second for a "micro-business" that would house the entire supply chain under one roof. They rented a 35,000-square-foot building, formerly occupied by the ABC Nightly News studio, and started cultivating, manufacturing, packaging, and distributing their own products. That structure is unusual in the industry, particularly for a company of WCCC's size.
"The feedback and the excitement that [my Expert Panel content] got from a lot of people in my network was very reaffirming."
"Most dispensaries aren't able to grow [product] out here," Churchill says. "So a lot of small businesses are entirely dependent on third-party vendors and supply chains that are entirely out of their control." Vertical integration gives him a significant advantage because he can grow and harvest cannabis and have it on the shelf three days later, while his competitors sell products that have been pre-packaged for weeks.
As his business has expanded, Churchill has found himself drawing on the leadership lessons he learned while he was at Chipotle. As a former college football player, he says he originally approached his job with a "run everything yourself and rule with a little bit of an iron fist" mentality. "I learned very quickly that that's not a reasonable way to run a team," he says. "We're in this together and it's not just me doing everything and delegating tasks." At WCCC, Churchill says, the key to success is surrounding himself with trusted employees whom he can empower to provide excellent customer service.
COVID had a dramatic impact on WCCC. "All of the enormous music festivals that happen out here were just gone," says Churchill. "We were able to still work on expanding our own products and work on our growth and focus on things that weren't entirely retail-based. But it was a very difficult year for retail." Last year, the business went from monthly seven-figure revenues to half that, but has since recovered. In addition to its own retail operations, WCCC manufactures cannabis products under its own brand, such as tinctures and gummies, that it sells to other dispensaries.
For Churchill, Rolling Stone Culture Council is an opportunity to connect with other cannabis entrepreneurs as well as business owners in other industries. Since the cannabis industry is so new, he's eager to soak up wisdom from members in other sectors. He's also excited about the publishing benefit. "I love the opportunity to create content," he says. "I absolutely think that being associated with the brand gives me credibility." When he posted some of his Expert Panel content on his social platforms, he says, "the feedback and the excitement that I got from a lot of people in my network was very reaffirming."