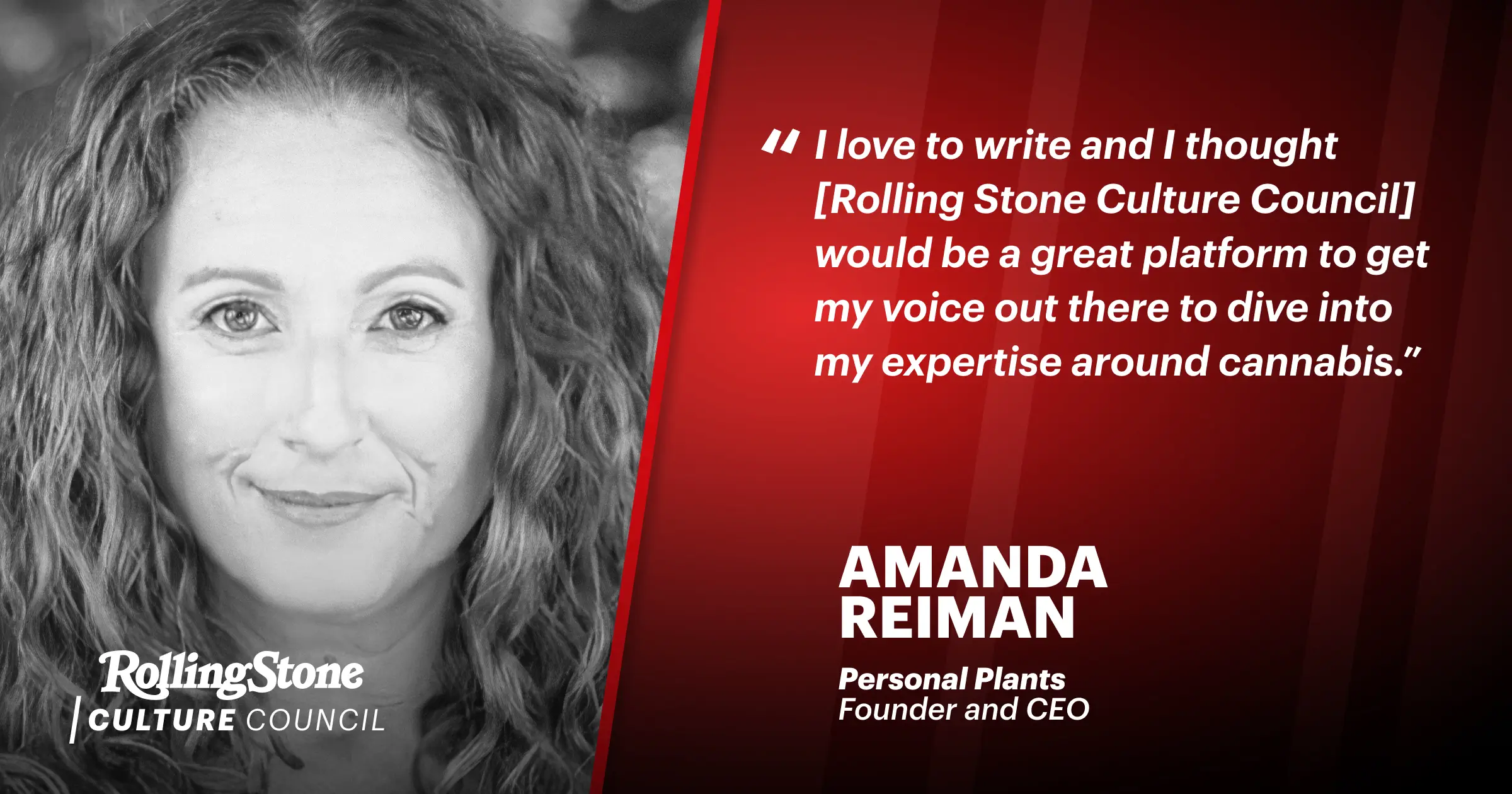 The founder of Personal Plants, a cannabis education website, Amanda Reiman calls herself "the Dr. Ruth of Cannabis." Reiman has been in the industry for more than twenty years and was at the forefront of studying the plant and its impact on consumers.
"When I started doing this, there wasn't an industry," Reiman recalls. When she moved to the Bay Area from the midwest to start a PhD program at Berkeley in 2002, she noticed a proliferation of medical cannabis dispensaries.
As a public health researcher, she decided to study them to learn more about how they were addressing patient needs. "It was really about studying the public health implications of access to cannabis at a time where propaganda was still very rampant," she says. "There was very little understanding of who was using medical cannabis and why they were using it."
When the DA in her district shut down a dozen dispensaries, including the one that Reiman was working for, she decided it was time to get involved in changing the law. "The DA shut down the dispensaries that had city permits but no state license, because there wasn't a state license," Reiman recalls.
She went to work for the Drug Policy Alliance, a nonprofit, as their manager of marijuana law and policy and worked to pass Proposition 64, The Adult Use of Marijuana Act. The 2016 initiative legalized cannabis in California and ultimately led to recreational sales in the state two years later.
"I call myself the Dr. Ruth of cannabis because my goal is to take highly propagandized material and conversations and make them very accessible and evidence-informed," says Reiman.
After working for several cannabis-related organizations, she started Personal Plants in 2020. The site is largely education-based and Reiman, who is also a social worker and a former professor at Berkeley, covers a variety of topics, such as talking to teens about cannabis. "It's me using my 20-plus years of experience studying the cannabis plant and studying cannabis consumers to ensure that as we move forward through legalization we don't see hazardous consumption or overconsumption," Reiman says.
"I have to get out of the cannabis space and publish in places that are more mainstream, that have readers who aren't in the cannabis culture, necessarily. And Rolling Stone [Culture Council] is a great fit for that."
Two years ago, Reiman also launched Sacred Garden, an NFT project that focuses on psychedelic plants. "We've created really beautiful, botanically accurate renderings of plants that we're going to be putting on Adobe stock images," she says. She believes people should know what psychedelic plants look like, rather than simply harvesting them for pharmaceutical purposes.
In addition to her work with her own companies, Reiman is Chief Knowledge Officer at New Frontier Data, an analytics and technology company that serves the legal cannabis industry. "We analyze point-of-sale, market, and consumer data, and provide insights into how the industry is operating and where the opportunities are," Reiman says.
Her role is to lead a team of analysts that conducts research with more than 4,000 consumers across illicit, medical, and adult use markets. "It gives us amazing insights into who consumers are, how they're using cannabis, what forms they're using, their motivations for use, and the related health, social behaviors, and purchasing behaviors," Reiman says.
The company also has a subscription-based insights platform that allows cannabis operations to access sales, margin, and brand data from every regulated dispensary in the country. "We work with foot traffic data from Foursquare, so we're able to track where cannabis consumers are going, understand more about the other activities they're engaging in, who they are, what they're purchasing," Reiman says.
A fan of Rolling Stone for many years, Reiman values being affiliated with the brand through Rolling Stone Culture Council. "I love to write and I thought it would be a great platform to get my voice out there to dive into my expertise around cannabis," she says.
One of her goals was to gain more visibility outside of publications that were strictly geared towards the cannabis market. "Because I want to kind of embody this Dr. Ruth persona around cannabis, I have to get out of the cannabis space and publish in places that are more mainstream, that have readers who aren't in the cannabis culture, necessarily," she says. "And Rolling Stone [Culture Council] is a great fit for that."