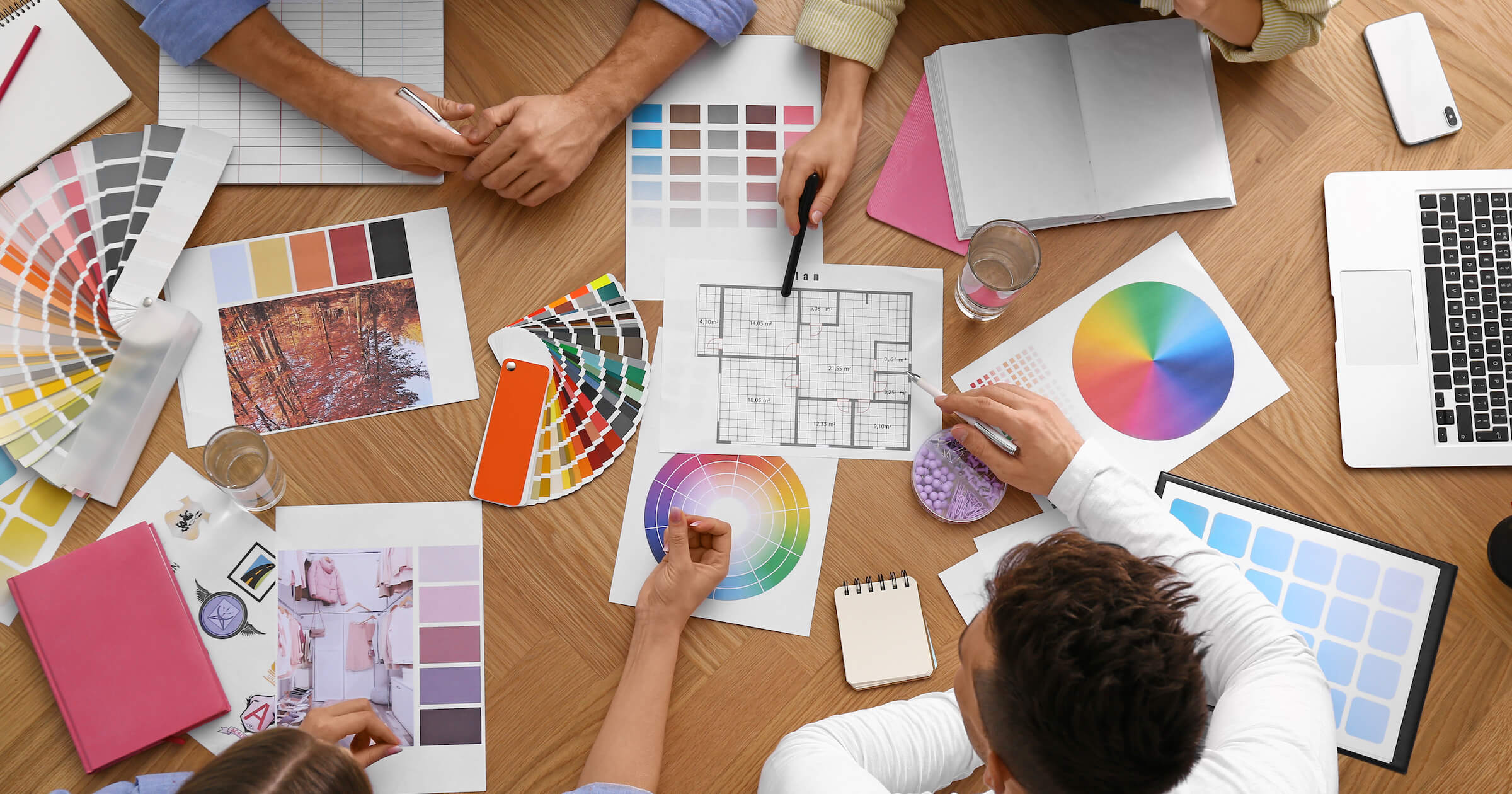 As a business owner or founder in the creative industry, networking is an essential part of your success. It's how you meet and build lasting relationships with potential clients and collaborators. It's also how you stay ahead of trends, find job opportunities, and develop new ideas.
But traditional networking tips often don't apply to the way entrepreneurs in creative fields typically build meaningful relationships. Creative people tend to have a lot less tolerance for shallow conversation. This can make it feel like an intimidating challenge to know how to connect with others in a more lasting and impactful way.
It all comes down to your mindset. Are you just trying to get the person's contact information so you can expand your network, or are you actually trying to get to know them? The more willing you are to spend time connecting at a deeper level, the more satisfying networking will be for you. And let's face it; it will also be more "successful" in terms of helping you grow your creative endeavors.
With that in mind, here are some actionable tips on how to make the most out of networking events and opportunities in the creative industry.
How to Build Meaningful Relationships
Building long-lasting and meaningful relationships should be your primary goal when you attend events or meet someone new. Focus on developing authentic relationships that can last beyond the event itself. Take time to connect with people on a deeper level. Ask thoughtful questions, and really listen to their answers instead of just exchanging business cards or talking about what you do.
Start with self-reflection and develop a plan. Take some time to think about what kinds of people you'd like to network with and why. Consider your goals and values, and make a list of the types of people who could help you achieve them. Think about the topics that are important to you right now, that you'd like to discuss. Going into any networking situation with a clear idea of who you want to meet and why helps you stay focused on your goal during the event.
Remember that authentic networking requires give and take. Offer assistance or advice as much as possible. Even small gestures can go a long way toward building relationships and making yourself more valuable in the eyes of potential contacts.
Focus on quality over quantity. No one "wins" by having the most connections or the biggest stack of business cards. It's better to take your time and get to know each person you meet. Show genuine interest in the person you're speaking to.
You can do this by asking them questions about their industry, exchanging ideas, and really listening when they talk. Get curious about who they are, what their typical day is like, why they are passionate about what they do, and who they serve with their creativity. Think about people to whom you can introduce them, and then follow up by making the introduction.
Doing all this will allow you to establish a real and valuable connection with the person and make them more likely to remember you in the future. Taking the time to get to know new people at a deeper level will help you create a lasting impression and build genuine relationships within your community or industry.
Differences Between Creative Networking and Traditional Networking
Michele Jennae, author of The Connectworker says, "Networking is not about just connecting people. It's about connecting people with people, people with ideas, and people with opportunities."
While that is true for all networking, it's especially true for creative professionals, many of whom are "solopreneurs" or have smaller businesses.
Traditional professionals (the average office worker and other types of professions) may have more opportunities for "traditional" networking conventions such as career fairs, conferences, or seminars that are focused on specific industries and job functions. To grow their professional network, they might tap into their current networks through references and recommendations to establish a larger base of contacts.
Those who work in more traditional professions often develop relationships with people in their company or industry who can provide insight into their field and offer similar connections.
The goals for creative professionals are often a bit different. You certainly want to grow your business and build a well-known brand, but as you get to know people in your network, you'll also want to look for new inspiration. That may come from meeting and talking to fascinating people, or from engaging with various art forms... or more likely both. It's encouraging to talk to like-minded people who are all working through the same challenges to grow their businesses and have an impact as you are.
As a creative professional, to network effectively you may need to proactively seek out peers in your field, establish networks through the arts community, and develop strong, collaborative relationships with other creatives that foster mutual growth. You will also likely need to focus on establishing relationships within the arts community as a whole, find places to showcase your work, or use online resources such as social media or portfolio sites to promote your work.
You may also want to focus on smaller events with fewer people so you have more time for meaningful conversations and can meet new people face to face. These deeper connections can lead to powerful collaborations in the future.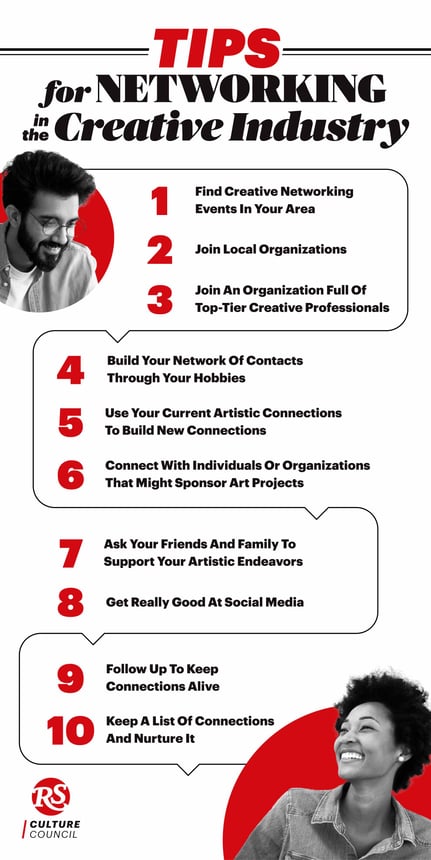 Tips for Networking in the Creative Industry
Networking events for creatives usually involve activities such as panel discussions, workshops, art shows, or film screenings that allow you to showcase your work while exchanging ideas and making connections along the way.
1 - Find creative networking events in your area: Look for local events hosted by other creatives or organizations that cater specifically to creatives; these are usually smaller scale and more intimate than traditional networking events. These could also be virtual networking events.
2 - When looking for a networking event appropriate for creatives, consider joining local organizations like chamber music groups or art associations that host regular meetings with other professionals in the same field as yours. These types of gatherings give members an opportunity to mingle one-on-one with others who share their enthusiasm and admiration for their craft while simultaneously deepening their understanding of its various aspects within a safe and encouraging environment.
3 - It may also be a great idea to join an organization like Rolling Stone Culture Council, which is full of top-tier creative professionals across a wide variety of industries. When you're exposed to a diverse group of creative professionals, your opportunities for learning, sharing, collaborating, and growing are tremendous.
4 - It may sound off-topic, but consider how to build your network of contacts through your hobbies. Sports clubs, running groups, artistic groups outside your usual (for instance, a visual artist joining a community or church choir), book clubs, hiking groups... Almost any type of organization with interesting, passionate people involved is a great way to expand your circle of connections.
5 - Use your current artistic connections to build new connections. Do you know anyone who is an art director? Can they recommend you to other art directors? Do you know anyone who hires musicians? Can they introduce you to other hiring personnel? Do you know anyone who produces shows of any kind - art, fashion, design, musicals, etc. - and can they introduce you to some of their colleagues and connections?
6 - Connect with individuals or organizations that might sponsor art projects. Banks, investors, civil rights activists, and philanthropists of all kinds. Are they interested in an art exhibit at a school? Or a new composition for the community orchestra? Consider what's going on currently in the community or in history, and offer to create art that addresses what's on people's minds. Think a little outside the box for this tip.
7 - Ask your friends and family to support your artistic endeavors from time to time. Sure, you'll have a few in your circle who are your biggest fans. Reward them! Thank them! Let them know how much you appreciate them by returning the favor whenever you can. But also invite people from your larger circle of connections. A personal invitation is usually more successful than an email blast.
8 - Social media. Of course, no networking or marketing post would be complete without mentioning social media. It's not a cure-all, and it's not highly effective most of the time. But get really good at one platform - perhaps Instagram, for instance - and post regularly. Interact with people who respond. Reach out to followers on a whim. Your social networks could be great platforms for talking to new people.
9 - Follow up. Following up after events or chance meetings is essential for keeping those connections alive. Send a follow-up email thanking them for their time, ask if they need any help with anything, invite them out for coffee/lunch – whatever it takes. Do what you said you would do if you offered to introduce them to someone. These small acts will go a long way towards maintaining those meaningful relationships over time.
10 - Keep a list of connections and nurture it. If you can do email marketing from your website or a landing page, that will give you an ongoing way to talk to all your followers at once. But even more important is staying in touch with individuals. They could be from your alma mater, your local community, or your online group, or your industry group. Just reach out every quarter or half-year to people you really liked, and people you know are good contacts for various reasons.
TL;DR
Building strong networks within the creative industry is essential for growing professionally and personally. By following these tips, you'll be able to make powerful connections with other creatives that will benefit both of you in the long run. take every opportunity to introduce yourself, show genuine interest in others, and stay in contact with people. These small actions will go a long way toward creating lasting bonds in this ever-evolving world.