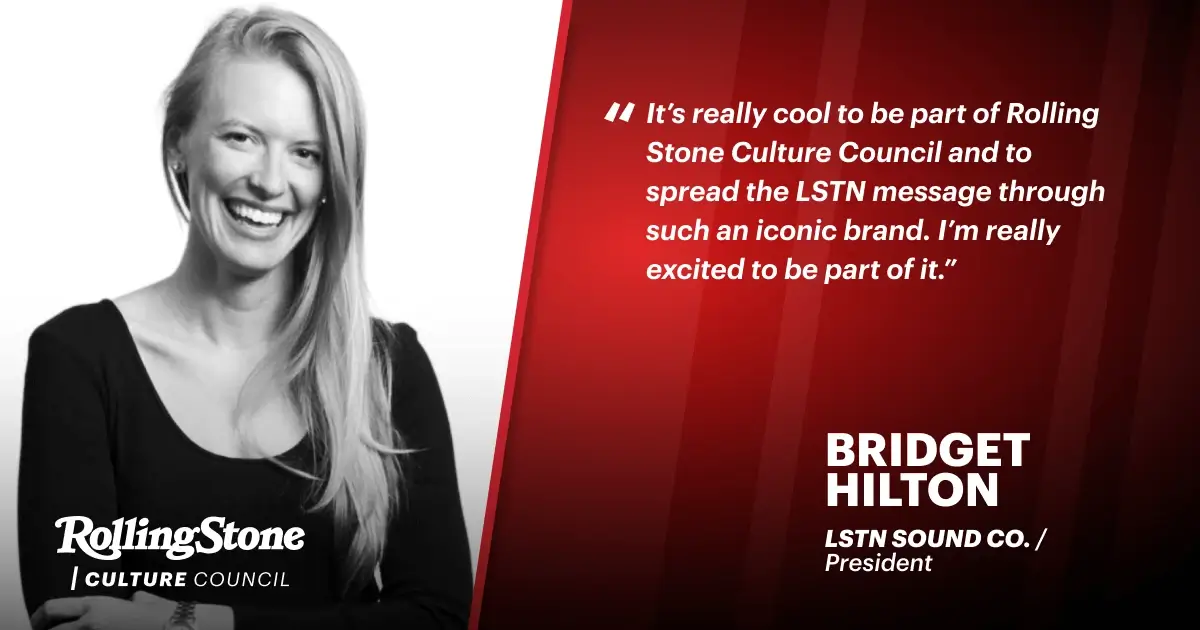 It's not unusual for an entrepreneur to have a social mission, but Bridget Hilton had one before she knew what kind of business she wanted to start. She began her career in the music industry, doing marketing, advertising, and sales for Universal Music Group. "One day at work, I was watching a YouTube video of a woman who was hearing for the first time and she was the same age as me," Hilton recalls. She was stunned and inspired. What would her life have been like without music? How could she help give others the ability to hear?
Social enterprises such as Toms and Warby Parker were making headlines, but there were no companies with a social mission that addressed the 360 million people worldwide who suffer from hearing loss – many of them in developing countries. "We wanted to help but we didn't have any money," says Hilton. "So it was like, 'I guess we're going to have to start a company to make money so we can give money away.'"
Hilton teamed up with her friend, Joe Huff, and the two brainstormed about what products they might sell. "We decided on selling headphones and earbuds," recalls Hilton. "And we had no idea how competitive the space was at the time." But before even producing a prototype, they contacted Starkey Hearing Foundation, a non-profit organization founded by the owner of the Starkey hearing aid company, and proposed a partnership: through the sale of their products, they'd support the nonprofit's mission of providing hearing aids to people in need globally. The Starkey execs' response: show us the product first.
So with $10,000 borrowed from a former colleague, Hilton and Huff headed to China to look for a manufacturer. They got lucky. Through an agent, they found a company that would make wooden ear cups from material left over from manufacturing furniture and flooring. The distinctive cups would give LSTN Sound Co. both a sustainability story and a way to differentiate their products from competitors. Before long, they had a prototype, as well as an agreement with Starkey.
"I want to share some knowledge with other leaders [in Rolling Stone Culture Council] about our wins and losses and how to navigate this new world we're in."
An appearance on Today, which Hilton landed through a friend, gave LSTN some early buzz and several hundred pre-orders. And in 2014, Google contacted the founders about appearing in a small business commercial. Press that focused on LSTN's "give back" story and great reviews from consumers were driving its success. Retailers came knocking: Abercrombie & Fitch, Nordstrom, Whole Foods, and Brookstone signed on as partners. And through a major deal with Delta Airlines, LSTN sold the airline noise-cancelling headphones for inflight use in premium cabins, and donated all proceeds to Starkey.
Hilton says LSTN has helped Starkey Foundation provide approximately 35,000 people worldwide with hearing aids. "They've been the most incredible partner I could possibly ask for," says Hilton. She and Huff have gone on several missions with the non-profit to experience firsthand the impact of the partnership. "It's been life-changing," she says.
The pandemic has had a dramatic impact on LSTN's strategy. The company had been partnering with several travel companies in addition to Delta, such as Wyndnam and Virgin Hotels. "Then all of a sudden, no one was traveling very far," says Hilton. "We had all these orders that got cancelled. It's been a rough transition. We're working with a lot of corporate partners who need headphones for their employees who are working from home." In addition to its original headphones, the company also sells wireless products such as earbuds and speakers.
As an entrepreneur who is dedicated to helping people hear and enjoy music, Hilton is excited about being a part of Rolling Stone Culture Council. "I grew up reading Rolling Stone obsessively, so it's really cool to be part of Rolling Stone Culture Council and to spread the LSTN message through such an iconic brand," she says. "I'm really excited to be part of it." First up on her plate as a member: writing content. "I want to share some knowledge with other leaders about our wins and losses and how to navigate this new world we're in," she says.