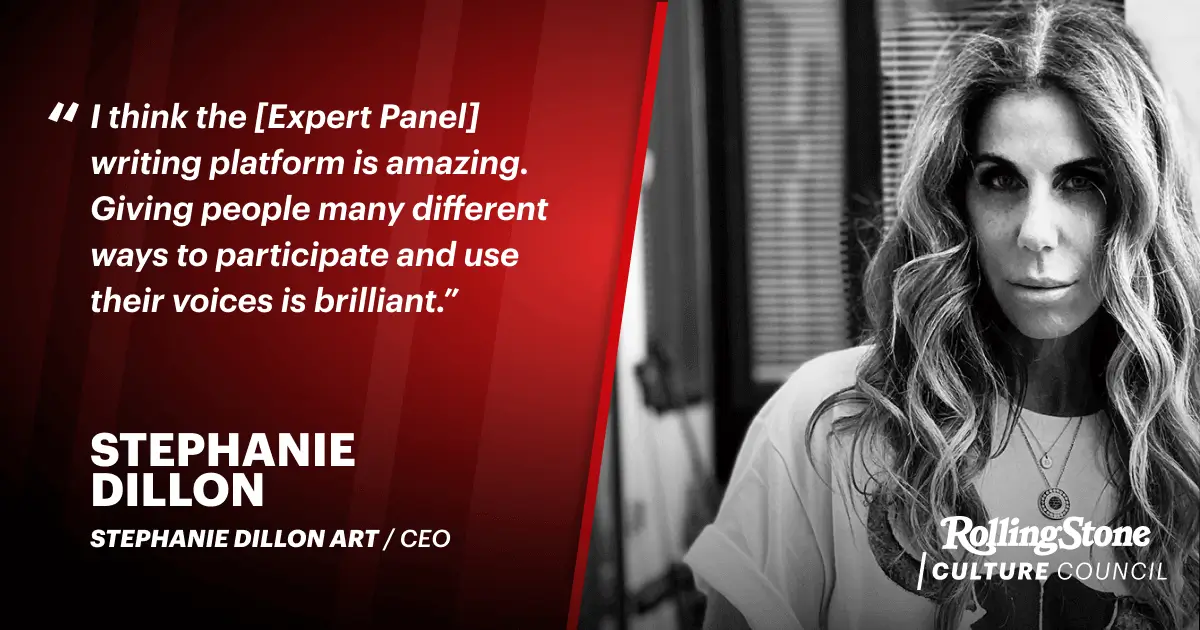 Five years ago, Stephanie Dillon's life was very different than it is today. She was financing independent films, reveling in the collaborative process with creative people. "Then, in 2016 I was diagnosed with breast cancer and it rocked my world," she recalls. "I had a revelation." She changed her diet, started researching the environmental causes of disease, and became more aware of her consumption of resources. And most significantly, she began painting, and selling her work through Stephanie Dillon Art.
"I decided that as a painter, I would differentiate by only using things that were damaged," she recalls. She had no formal artistic training, but found herself painting on all kinds of surfaces that were used or damaged — canvases, frames, furniture, and clothing, for instance. "I think part of that was navigating brokenness, imperfection, and consumption," she says. Up until then, she concedes that she had been an enthusiastic consumer of material goods, particularly French luxury items. "I was really detached from some of my behavior and the consequences of that behavior on some of these huge global problems, like climate change," she notes. "So as an artist and someone who feels really responsible to do my part, as a business leader I started asking myself some really hard questions about who I am in the world."
During the pandemic, Dillion's artistic endeavors took a new turn. Throughout her life, one of her biggest pleasures had been attending concerts and collecting band t-shirts. Dillon had a slew of them, so she conceived of a way to repurpose them: turn them inside out and either paint on them or print them with artwork and sell them as high fashion. Eighteen months ago, she launched Citizen-T using her own stash of graphic t-shirts, and also buying second-hand garments. She painted some of them, and also recruited a few artist friends to contribute designs which she had printed on the used t-shirts. "And then I started thinking, 'How can I scale this?'" Dillon recalls.
She came up with a solution that not only jibed with her desire to combat fast fashion and textile waste, but that would have an even greater social impact for women and girls. It came in the form of a partnership with Steven Tyler of Aerosmith, whose 1989 hit "Janie's Got a Gun" led to the launch of Janie's Fund, Tyler's not-for-profit organization that supports programs for abused and neglected girls. Dillon's pitch to Tyler: she'd create a t-shirt for Janie's Fund and all proceeds would go directly to the charity. Tyler agreed and the project raised $60,000 in five days.
"Rolling Stone Culture Council] is casting a really interesting net, including people like me and others who are kind of outliers in their industry, who are trying to make huge changes."
The partnership gave Citizen-T high visibility and led to a recent investment in the company by Evie Evagelou of Fashion 4 Development (F4D), which promotes social change through the fashion industry. The plan is for Citizen-T to partner with other not-for-profits to create t-shirts with messaging that builds awareness. For instance, the company designed a "Code Red" t-shirt to call attention to the U.N.'s recent climate change report. The shirt was featured on the runway at Fashion Week. Dillon says she's also working with Greta Thunberg's organization, We Don't Have Time. "We're also in talks with FIT in New York, challenging their senior class to do a completely non-manufactured fashion show in February," says Dillon. Her long term goal is "to be able to meet with someone like H&M to scale Citizen-T globally." Additionally, Dillon hopes to parlay her experience with Tyler to explore partnerships with other musicians and artists.
While scaling Citizen-T, Dillon has continued creating art in other media, including NFT art. She was an early adopter of Bitcoin and says "it was a logical extension to become an NFT artist and also to collect NFT art." Her digital art is also consistent with her mission to reduce consumption. "How amazing to have a painting that doesn't exist in the material world that's considered valuable and that you can project on a screen on your wall," she says. "It's still original art and you're pretty much saving the planet some material goods."
Dillon is a long-time fan of Rolling Stone. "What I really liked about it is that it was a vehicle to showcase art, challenge the status quo, and highlight some important musicians that were really trying to change the world with the messages and their music," she says. As a Rolling Stone Culture Council member, she's a regular contributor to Expert Panels. "I think the writing platform is amazing," she says. "Giving people many different ways to participate and use their voices is brilliant." She also appreciates that the council's highly curated membership includes a wide range of professionals in a variety of industries. "They're casting a really interesting net, including people like me and others who are kind of outliers in their industry, who are trying to make huge changes."