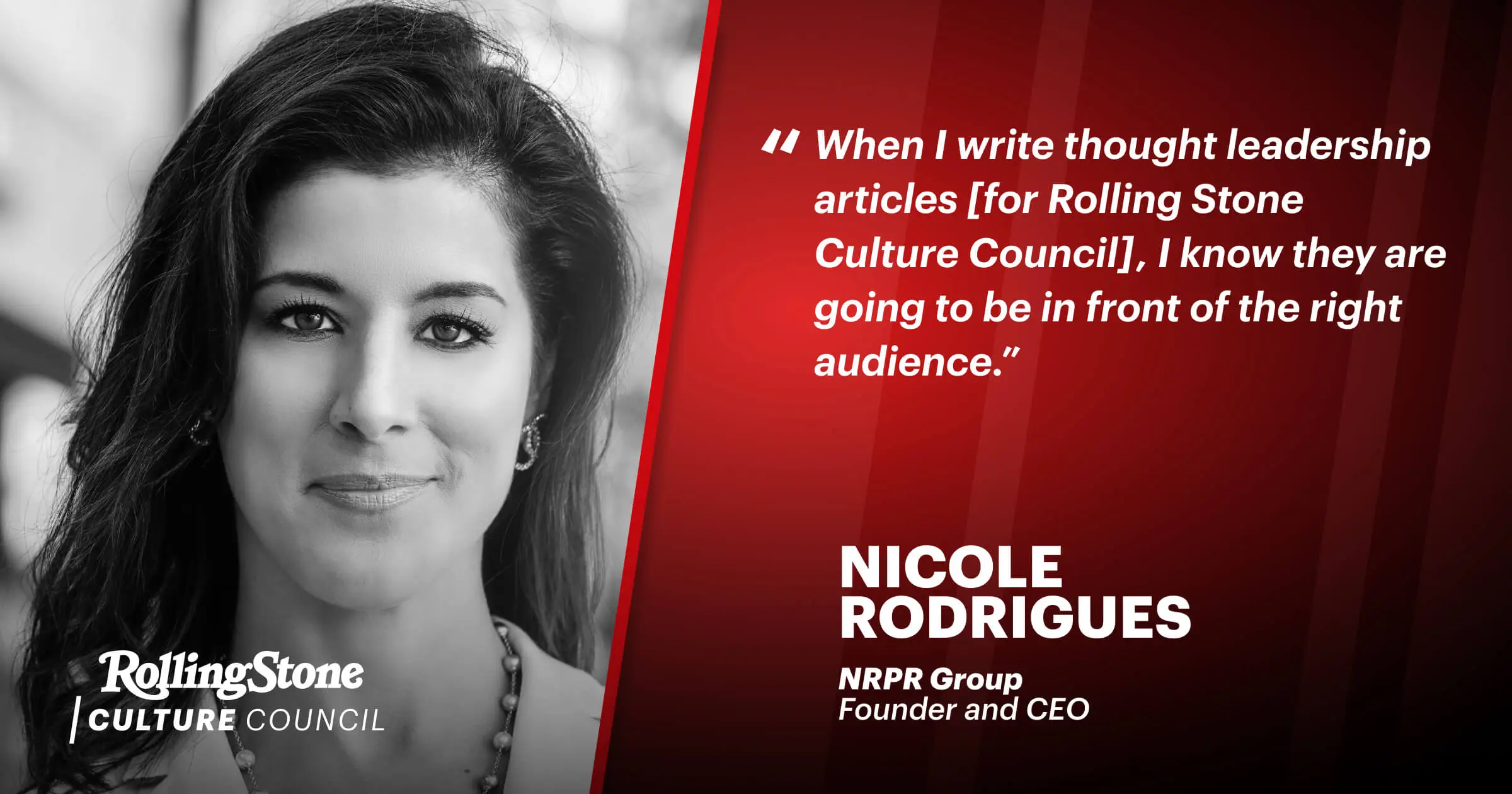 "Being a PR person or a publicist was my natural talent as early as elementary school," says Nicole Rodrigues, the founder and CEO of NRPR Group. When she ran for student office positions, she'd tailor her campaign messages to resonate with different groups — younger and old kids, jocks, math nerds, etc. "I was constantly making sure the public perception of me was on point," she recalls. "Singers, dancers and artists find their passions very early on, and sometimes so do publicists."
Rodrigues worked for several PR firms in California before working her way up to vice president of digital entertainment at a large agency in LA, where her clients included Hulu and YouTube. When Hulu first began producing its own shows, Rodrigues was on the team that came up with the PR plan for the launch and, she says, "we absolutely crushed it and got really great results."
As someone with Silicon Valley PR experience, she had a deep understanding of the special needs of companies that sit at the intersection of the tech and entertainment industries. And she developed a vision of how a PR firm should be structured to accommodate those needs.
A supportive boss told Rodrigues that her next career step would likely be a position as president of an established firm, or CEO of her own shop. She opted for the latter, launching NRPR in 2014.
Part of her vision for "a PR firm of the future" was to hire a stable of writers and editors who concentrated solely on their craft and not on pitching members of the media. "If you're pitching a media person, one-to-one, we have an in-house editor who used to work in journalism who edits the pitch to make sure there's a second set of eyes," she says. That's something she couldn't do at a larger firm because it would have increased headcount.
Another element of NRPR's secret sauce: every pitch must be a deliberate one-to-one conversation with a journalist; no email blasts are permitted unless it's for a newsletter. "We've built strong relationships with people who have said 'no' to one pitch for one client, but 'yes' to another, because they know that we're at least going to be thoughtful about how we approach the story idea," Rodrigues says.
"I knew that [Rolling Stone Culture Council] was going to be a great opportunity to share my expertise in a way that was also really fun."
Rodrigues says the most challenging aspect of her entrepreneurial journey was building the right team. In constrast, Rodrigues says the easiest part of starting her own company was getting clients, due the the strong relationships she had built over many years in the industry. Currently, her clients fall into a few key buckets: PR for events, such as LA Comic Con; sports (Rodrigues is a former Oakland Raiders cheerleader); health care tech; and a growing Web 3 practice.
During the pandemic, health care and health tech companies accounted for more than 50% of NRPR's client roster. For example, an existing client referred Covid Clinic, a new drive-through rapid testing company that grew from two operations in Anaheim to approximately 25 nationwide.
"They were in the midst of not only building the company but trying to figure out how to market it," says Rodrigues. She was faced with doing crisis communications for her new client, as its new sites were overwhelmed with traffic, and lines of people waiting to be tested grew long. Her skill at turning potentially negative stories into neutral ones won her the company's loyalty. Now, says Rodrigues, her company will handle PR for Covid Clinic as it rolls out other kinds of rapid testing offerings for flu, RSV, UTI, and pregnancy.
Rodrigues was attracted to Rolling Stone Culture Council because, she says, "I knew that it was going to be a great opportunity to share my expertise in a way that was also really fun." PR can be misunderstood or undervalued, and Rodrigues thinks that Expert Panels and long-form articles can help combat those preconceptions. "When I write thought leadership articles, I know they are going to be in front of the right audience," she says.
For example, an article she wrote about the Metaverse in September 2022 was cited and hyperlinked in an article in PR Week. "That one thought leadership piece on Rolling Stone Culture Council not only helped me get a couple of podcasts, but a journalist who thought what I said was helpful, so she worked it into her story," says Rodrigues.