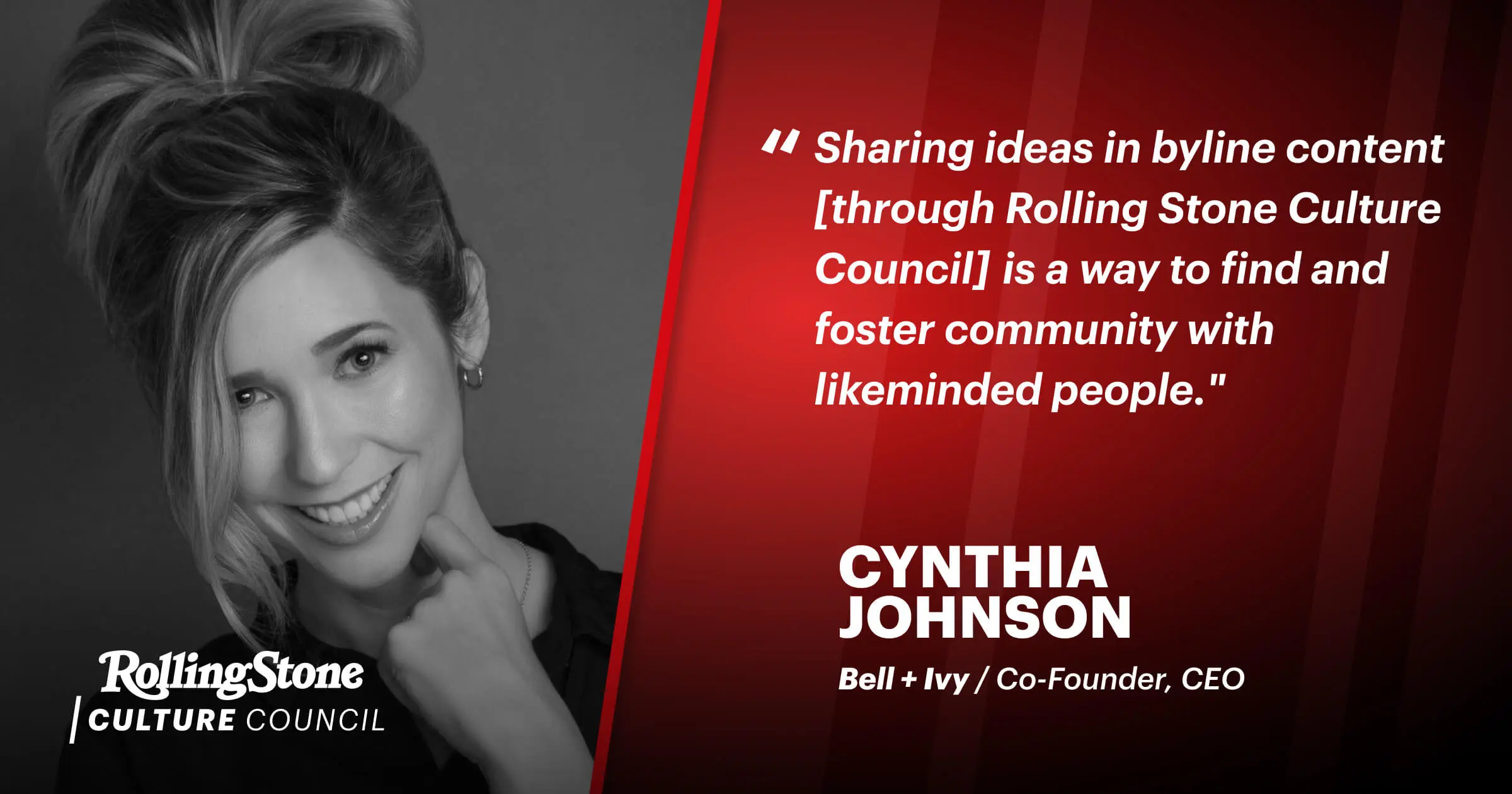 Cynthia Johnson discovered her secret sauce while launching a social media and brand development department for a boutique SEO agency. The company worked primarily with behavioral health clients, including a firm that was reenvisioning the way people found treatment for mental health and addiction online. "I got to see what it was like to both work in my craft and support mission-driven businesses at a time when mental health wasn't something that people were talking about freely," says Johnson.
When her employer was acquired by a large healthcare company that had a big reputation management crisis, Johnson's team came up with an idea to protect their own brand. They would use individuals to be the voice of the brand, drive referrals, and connect with the community in a meaningful way. "We saw that a decentralized approach to marketing by leveraging people in the organization actually sparked some pretty incredible ideas," Johnson recalls.
Johnson and co-worker Zach Binder decided to start their own agency, Bell + Ivy, to focus on personal and employee branding. They work with companies on campaigns that leverage real employees to amplify brand messages, and also with executives, founders, and philanthropists to define their messages to benefit the organizations with which they're affiliated.
For example, Bell + Ivy worked with Walmart on an employee branding campaign designed to benefit its drive-through grocery business. Johnson and her team came up with a concept called "Walmart Cooks", where employees were tapped for their well-loved family recipes, the ingredients for which were shoppable at Walmart stores. "We turned some of those recipes into cooking videos," says Johnson. All the content included an "add to cart" element that allowed viewers to purchase ingredients and pick them up at one of 5600 local Walmart stores in the U.S. "It was successful because they saw a huge increase – 500 to 600% increase in engagement on their content," says Johnson.
"I've learned a lot about topics through [Rolling Stone Culture Council] groups, which is why I wanted to manage a group to explore more topics. I found that people are very engaged in thoughtful, meaningful discussions."
Bell + Ivy also works with individuals who are experts in health, finance, and tech. "They've either built something or done something, or they support something that is very unique and very special but no one is listening," says Johnson. For instance, one client is a doctor who has developed a method of gene testing that can be used to detect and change cancer genes. Another is a PhD in San Francisco that runs a large construction tech company and has streamlined a process for reducing carbon emissions. "We try to find out who they think they are, who the internet thinks they are, and then where those two worlds need to merge in a way that tells the right story and benefits them," says Johnson.
Covid was a catalyst for Johnson to pivot her business a bit. With 13 employees and another 30 that are brought in part-time on a project basis, she wanted to make sure she kept people working, despite losing some clients due to the pandemic. "We knew right away that we had a client base that needed to let us go," she says. "So it was a combination of making those phone calls and then making 30 times more calls to convince people who could use and benefit from our services that they should bring us on." Those included industries that Johnson knew would still be spending and should be spending. For instance she worked with the CEO of startup accelerator Galaxy Labs on a campaign for the company's social giving initiative.
In addition to her work with Bell + Ivy, Johnson is a founding board member of WonderyKey Collective, a not-for-profit focused on narrowing the digital divide for foster and newly-emancipated youth in the U.S. The organization grew out of a Covid initiative called "Here's How You Can Help," which marshaled volunteers to provide various kinds of help to people in need during the pandemic. "We had people doing comedy calls with the elderly, sending iPhone chargers to hospitals, and making masks," says Johnson.
Johnson leads the Big Ideas Book Club Group on Rolling Stone Culture Council's online forum. "I've learned a lot about topics through the groups, which is why I wanted to manage a group to explore more topics," says Johnson. "I found that people are very engaged in thoughtful, meaningful discussions." Forums, she says, "feel like a safe space to ask "dumb" or vulnerable questions, so I find that very valuable."
When she contributes to Expert Panels or writes by-lined articles, Johnson says her writing often results in new business, partnerships, and leads. "Sharing ideas in byline content is a way to find and foster community with likeminded people," she says. For example, Johnson recently successfully leveraged an article she wrote in the spring of 2022 about Web 3. "That article resulted in open discussions on the topic of Web3 with industry leaders that led to a local collaboration with LA Tech Week and Web Summit," she says. "We had several Web 3 agencies reach out to us to participate because they had read my article."