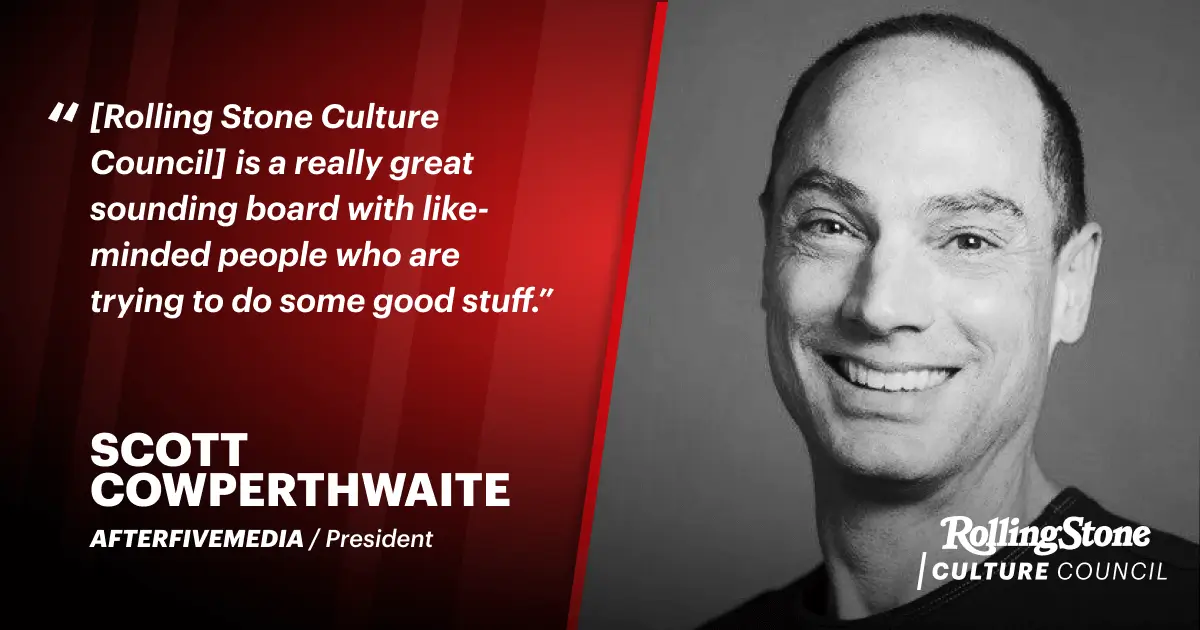 Scott Cowperthwaite started his company, AfterFiveMedia, 21 years ago because he perceived a gap in the marketplace: most PR and marketing firms focused on the intricacies of the campaign, but did little to integrate that work into their clients' operations. For instance, a big restaurant chain could spend millions of dollars on a promotion but fail to communicate the details to retail employees. "I just thought there was a better way to integrate operations and marketing," says Cowperthwaite. "The two have to work together."
AfterFiveMedia's original clients were small to medium sized companies, many of them in the entertainment, hospitality and travel and tourism industries. Campaigns included many of the traditional marketing elements — TV, radio, flyers, websites, etc. "We did everything in-house which worked well," Cowperthwaite says. "Everything was linked up nicely. All the print looked like the TV stuff, and the TV stuff sounded like the radio stuff, and the radio stuff kind of jived with what was on the website."
Until three years ago, Cowperthwaite had several full-time employees in Denver. But then he realized that a remote work environment with contractors would not only be better for his clients, but would relieve him of many of the day-to-day management responsibilities that come with full-time employees. The shift had been made successfully by the time the pandemic hit, which allowed AterFiveMedia to better adapt to the new remote work environment.
Cowperthwaite works with a large variety of clients in various industries from entertainment to real estate to medical, and more. He says some of his clients wanted to suspend their marketing efforts during the pandemic but, he says, "with my encouragement, they stayed after it and it paid off big time."
"It's a passionate group of people with lots of experience who have truly been down in the trenches."
In addition to PR and marketing advice, Cowperthwaite offers his clients business coaching, drawing on his own experience with a company he started in 2014. The inspiration for StopSocks was the sticky-bottomed hospital socks that Cowperthwaite was given when he had shoulder surgery. "They were horrible but they kind of worked," he recalls. "And as a marketing guy, I've always thought I don't necessarily need to come up with the best, most innovative idea ever. I just need to make things better." So he came up with a trendier, more comfortable version of those socks and sold them to yoga studios and on Amazon where they became a bestseller. Two and a half years later, he sold the company to his Amazon distributor.
It was during a ski outing in Vail that Cowperthwaite stumbled upon an opportunity that would become a second gig for him in 2017. He was on the mountain and noticed a film crew shooting a video for the local affiliate of Outside TV. He had done some video work for clients, often appearing on-air as a spokesperson, but he was captivated by the idea of doing outdoor content. "There's nothing that inspires art and creativity for me as much as being outside," he says. "For me, it's always been a cool balance between art and being outside. I love them both." So on a whim, he went to the TV station and said, "Hey, my name is Scott, I'm from Colorado, I do a lot of this kind of stuff and I'd love to host some shows for you guys." His timing was perfect and the station agreed to try him out. In addition to hosting a wide variety of live and recorded shows, he eventually became station manager, in charge of all aspects of station operations.
As a member of Rolling Stone Culture Council, Cowperthwaite most values the connections he makes through virtual events. "It's a passionate group of people with lots of experience who have truly been down in the trenches," he says. "[Rolling Stone Culture Council] is a really great sounding board with like-minded people who are trying to do some good stuff." He's built personal relationships with members such as Marcus Cobb, with whom he shares a love of the music industry (Cowperthwaite is also a part-time DJ). "It's genuinely just a great group of people," he says. He's also building business-related relationships, such as with Larry Dvoskin, with whom he's discussing the possibility of starting a new NFT-related business.