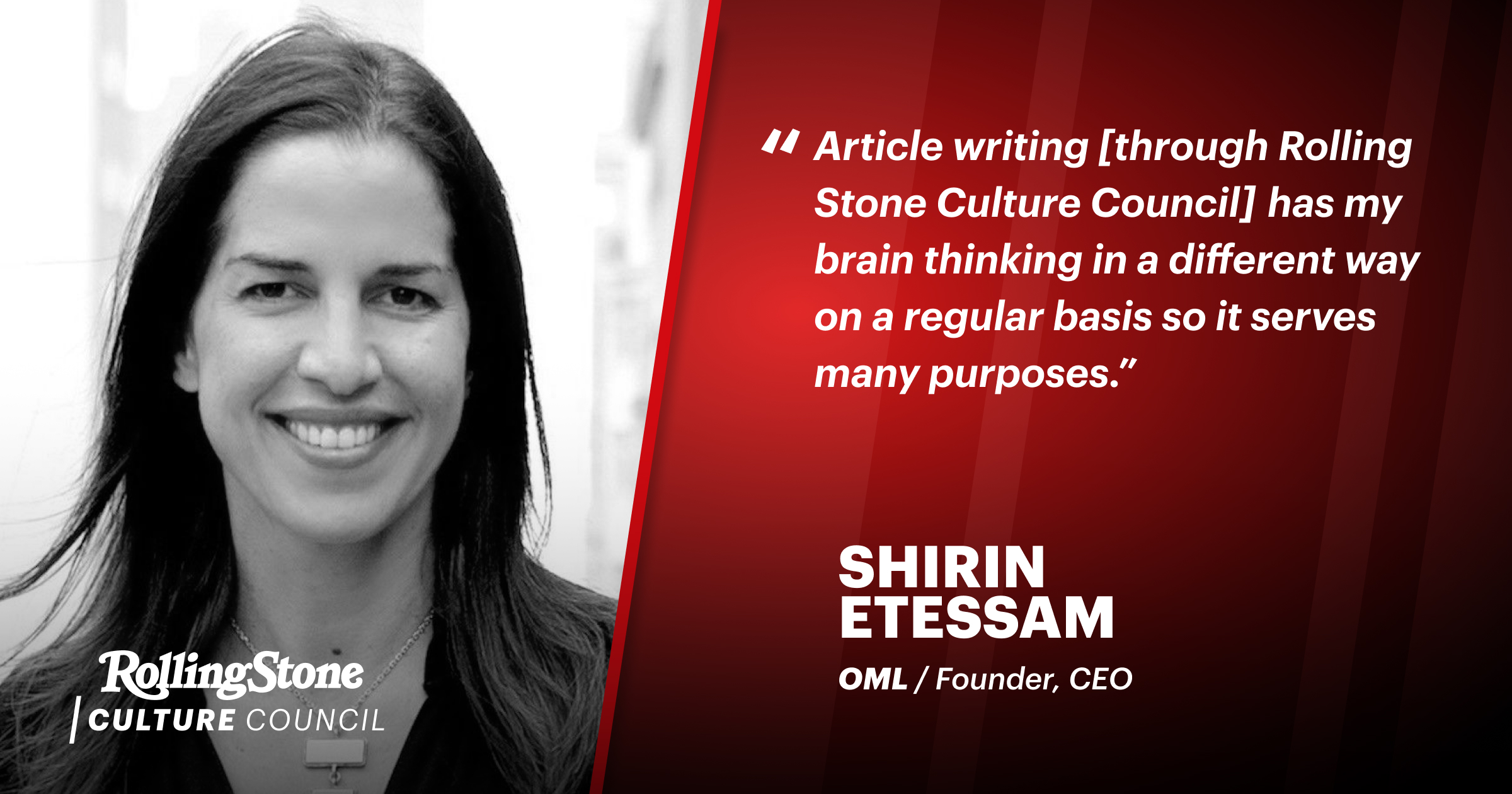 Shirin Etessam had been a film and television producer for large companies such as CNET, Discovery Networks, and Travel Channel before she started her own streaming company, OML, in 2009. A member of the LGBTQIA+ community, Etessam and a producing partner had developed a digital series that she describes as "a lesbian Mad Men." They took the project to MIPCOM (International Co-Production Entertainment Content Market) in Cannes and it sparked a bidding war. "It went into production but it was dropped," recalls Etessam. But even though that project did not come to fruition, interest from big players was encouraging. "And that was the catalyst for OML," she says.
It was a timely launch because at the time there was a dearth of queer content, particularly for women. "I'd Google "lesbian TV series" and the results were just porn," Etessam says. The idea behind OML was to create a centralized location where people could access queer female content. "The thought was, let us go and excavate the content that you can't find easily," says Etessam. "It became popular very quickly. In the early days, I'd get emails from places like Morocco and India from women saying thank you, because they had no other access."
Etessam built the company's reputation as a trusted brand partly by partnering with established queer female publications such as SheWired, AfterEllen, and Autostraddle, and with prominent nonprofits wuch as Human Rights Campaign and The Trevor Project. Early on, OML was one of the only companies to live stream The Gay Games. Eventually, OML put content on YouTube, monetized it, and grew to 860,00 subscribers and half a billion views. "Queer content was a passion play for a long time before it actually started making money," says Estessam.
"I'm always interested in meeting other entrepreneurs and I liked the combination of industries that Rolling Stone [Culture Council] members are in."
Last March, Etessam and two partners, Shantell Yasmine Abeydeera and Nanci Gaglio, created their own film production company, Thornbyrd Films. "The reason we started it is that it's different when queer females are telling queer female stories," Etessam says. The company is committed to what she calls "next level storytelling" which means that while each film has strong female characters at its center, it's the story — whether it's a thriller, a comedy, or a docuseries — that's front and center. And there's a firm policy that there are no "coming out story lines" because it's been done so many times before. Thornbyrd's original content runs on OML.
Over the years, Etessam and OML have pivoted many times, evolving from excavating content, to curating it, then creating original content. There was also a two-year partnership with Revry, a 24/7 TV channel for queer women, an attempt to create a Netflix-like video-on-demand hub, and a retail division that promoted queer female art and fashion.
Next up for Etessam and OML: dipping toes into the world of Web 3.0 with NFTs. Currently, the company is marketing NFTs for a web series called "Girls Like Magic," a web series on OML that went viral and is being developed into a television series. The concept is to use NFTs as a way to create a bridge between content creators and consumers by using them as a means of special access to special events and behind-the-scenes content. "We'd love to get to the point where NFT holders will have a say over various characters' storylines," says Etessam. "They will literally get to own a piece of the series that they love."
As a member of Rolling Stone Culture Council, Etessam says "I'm always interested in meeting other entrepreneurs and I liked the combination of industries that Rolling Stone [Culture Council] members are in." As a regular contributor to Expert Panels and a writer of long-form articles, Etessam has the opportunity to position herself as a writer — an identity that's important to her since she plans to publish a book about self-transformation in 2023. "No one really knows me as a writer," she says. "Even though I've written a massive amount of content, I don't put myself out there as a journalist or a blogger. Article writing has my brain thinking in a different way on a regular basis so it serves many purposes."