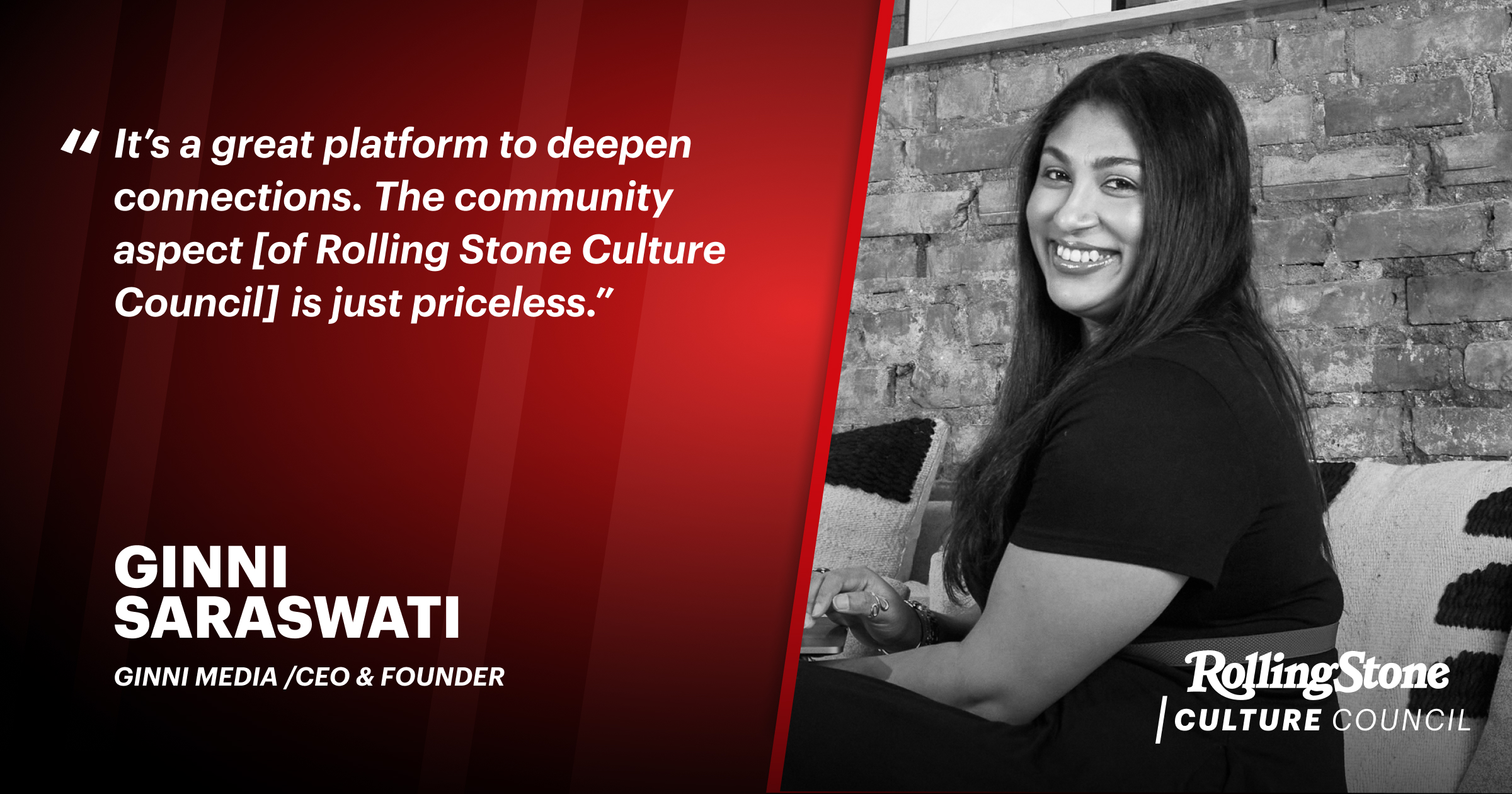 Ginni Saraswati describes her 20s and 30s as a "big experimental phase of figuring shit out." But whether she was working at a deli, hosting parties at a trampoline park, or building wing components for the 787 Boeing Dreamliner, there was one constant in her life: she loved radio.
The founder of Ginni Media stumbled into her career via a community radio station in Melbourne, Australia. "I believe it was one of only three LGBT radio stations in the world," recalls Saraswati. "And they were training people in radio, so I signed up." At first, she was hesitant about being on-air, so she was assigned the graveyard shift, hosting a hits show, to get her feet wet. A few months later, she was moved to afternoons, and then to drivetime. "The on-air progression was quite natural and exciting," she says. "I didn't anticipate that it would go that way, but I loved it."
For the next several years, she alternated between account management at commercial radio stations and agencies, and on-air hosting at radio stations. But her dislike of corporate politics led her down an unusual path: she enrolled in a trade school to learn aerospace construction and then worked at an aerospace construction company for just under four years. The work, she says, was almost meditation, and the best part of it was that it was over at 5 pm. "You're focused at work, but you don't take it home with you," she says. "So you can go home and build your side hustle." And that side hustle was Ginni Media.
"I knew podcasting was going to be something that, over time, would be a valuable media platform for anyone, whether you're an influencer or if you're looking to grow your brand or business." She had launched her own podcast, The Ginni Show, in 2016 and was almost immediately barraged with inquiries from others who wanted to to do the same. "That's when everything aligned for me," she says. "I said 'Hey, I need to run a podcast production house.'"
"[Rolling Stone Culture Council] is a really cool opportunity for me to connect with like-minded individuals. I love the fact that it attracts movers and shakers."
She bid on work via sites such as Upwork and landed her first few clients, most of them based in the U.S. She decided to move to New York and her side hustle became her main hustle. Ginni Media works with Fortune 500 companies as well as small- to medium-sized businesses to help them conceptualize, produce, and launch podcasts. "If you have an idea or a niggling feeling that you should do a podcast, you come talk to us and we'll help get you launched," she says.
"The pandemic was probably the busiest time of my life," Saraswati notes. "Brands that were putting money into travel and events had to put that money elsewhere and they typically put it into content creation or marketing in audio or video form." Her team grew three-fold, to 31 employees, and she learned a lot about building an organization and scaling it quickly while remaining true to its values and culture.
Metro Podcast Studio, a business that requires clients to show up in person, did not fare quite so well during the pandemic. But now that there's less apprehension about doing business face-to-face, Saraswati says she's looking into expanding the business beyond Manhattan.
In addition to her three businesses, Saraswati serves as vice president of Robert's Wish, an anti-bullying non-profit that focuses on LGBTQ youth. "This is something I'm deeply passionate about," she says. "As a member of the LGBT community, my life could have been very different without a best friend and a family that was ultimately supportive. So I'm glad this organization exists."
For Saraswati, Rolling Stone Culture Council offers "a really cool opportunity for me to connect with like-minded individuals. I love the fact that it attracts movers and shakers." Her Expert Panels and long-form articles are "a great credibility builder. It really does allow me to leverage my thought leadership." She also values the professional connections that the community helps foster. Through the Culture Council, she connected with fellow media professional Marla Matime. "I felt like I found a kindred spirit in podcasting," says Saraswati. "It's a great platform to deepen connections. The community aspect [of Rolling Stone Culture Council] is just priceless."