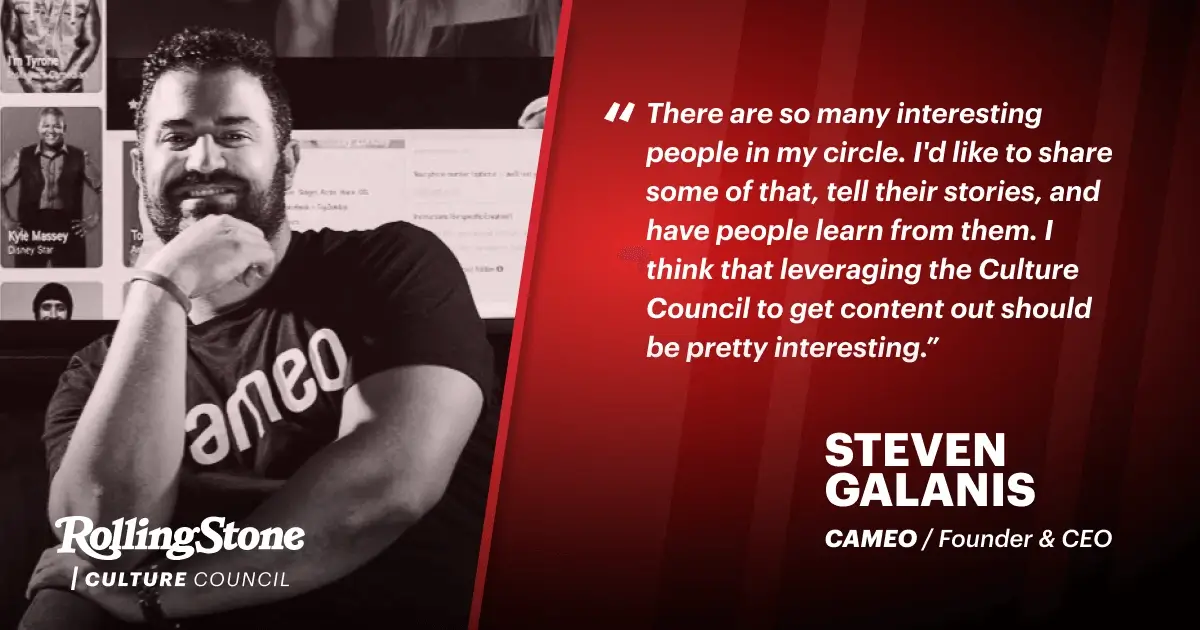 Two years ago, Steven Galanis's company, Cameo, landed on Time magazine's "50 Most Genius Companies" list. For those who are not in the know, Cameo is a marketplace where athletes, actors, musicians, comedians, and anyone else with a following can sell customized video shoutouts directly to fans. Want to send your pal a birthday greeting from Ice T? For $350, the rapper/SVU star is happy to oblige. But if Cameo was genius in 2018, it is even more genius now, as COVID-19 has consumers searching for innovative gifts that don't involve actual shopping, and talent that's been benched due to the virus seeks out new revenue streams.
"We saw a lot of tailwinds on both the supply and demand sides," says Galanis. "Think about how many musicians have had their tours cancelled, baseball players making 15% of their salaries, and stand-up comedians not being able to do what they love. By the end of 2020, we'll have a 5x increase in business over 2019. It's a massive year."
Galanis co-founded Cameo in 2016 with Devon Townsend and Martin Blencowe. Blencowe, who was an NFL agent, had shown Galanis a video he made for a friend — a Seattle Seahawks player congratulating his friend on becoming a dad. "It was a eureka moment," recalls Galanis. "I really felt that this was the new autograph." For technical expertise, the two tapped Townsend, a former Duke classmate of Galanis who was a talented software engineer, and an early Vine star. "Devon had an account on Vine that had over a million loops," says Galanis. "But despite the fact that he'd become famous on Vine, he was never able to monetize at all. We really felt like there was an opportunity to fix that problem."
"I think it's always interesting to be surrounded by other people doing interesting things. And hopefully, there's some great connections and some shared learnings that can come out of it."
Similar early platforms focused on attracting top talent and charging a premium for engagement, but Cameo took a different approach. "The power dynamics in sports, entertainment, and social media are such that the people at the very top are making an inordinate amount of money and everybody else is really struggling to get by," says Galanis. "We built Cameo for people who were more famous than they were rich."
When they first launched the marketplace, the co-founders focused on "non-superstar athletes" and leveraged their collective connections to populate Cameo. "They were willing to give us a shot when we had no fans," says Galanis. "Once they enjoyed it, we asked them to tell their friends." To calculate pricing, Galanis, who was an options trader for five years, figure out a pricing method that involved using an athlete's annual salary to calculate an hourly rate. One of the Cameo video messages was purchased by a dad for his daughter on her birthday. "He sent us a video of his daughter crying because she was so happy," says Galanis. "The second we had that first reaction video, we could show people like how important and impactful 30 seconds of their time can be."
The marketplace quickly grew to include a wider variety of celebrities, such as musicians, actors, comedians, etc. "And then we started putting influencers on — a lot of people who had gotten famous on YouTube, Vine and TikTok," says Galanis. "And the business just went to another level." Today, Cameo features 35,000 celebrities in a variety of industries. This year, Galanis says, 15 Trump impersonators racked up a collective $3.2 million in bookings. In 2019, Cameo was "the fastest-growing consumer marketplace business in the world," says Galanis.
Unlike other consumer marketplaces, Cameo spends very little on marketing or advertising, since the company's talent generally takes care of that on their own. All celebs have a Cameo link that they can share with their fans and followers on social media and, says Galanis, the vast majority of purchased Cameos are shared by the recipient. "Every Cameo is a commercial for the next one," he says. "Our model is very reliant on viral word-of-mouth marketing."
Galanis joined Rolling Stone Culture Council partly because he is based in Miami and "might not be exposed to as many people who are shaping culture as if I was in New York or LA. I think it's always interesting to be surrounded by other people doing interesting things. And hopefully, there's some great connections and some shared learnings that can come out of it." He also plans to take advantage of the publishing benefit. "One of my goals is to start using my personal platform a lot more," he says. "There are so many interesting people in my circle. I'd like to share some of that, tell their stories, and have people learn from them. I think that leveraging the Culture Council to get content out should be pretty interesting."