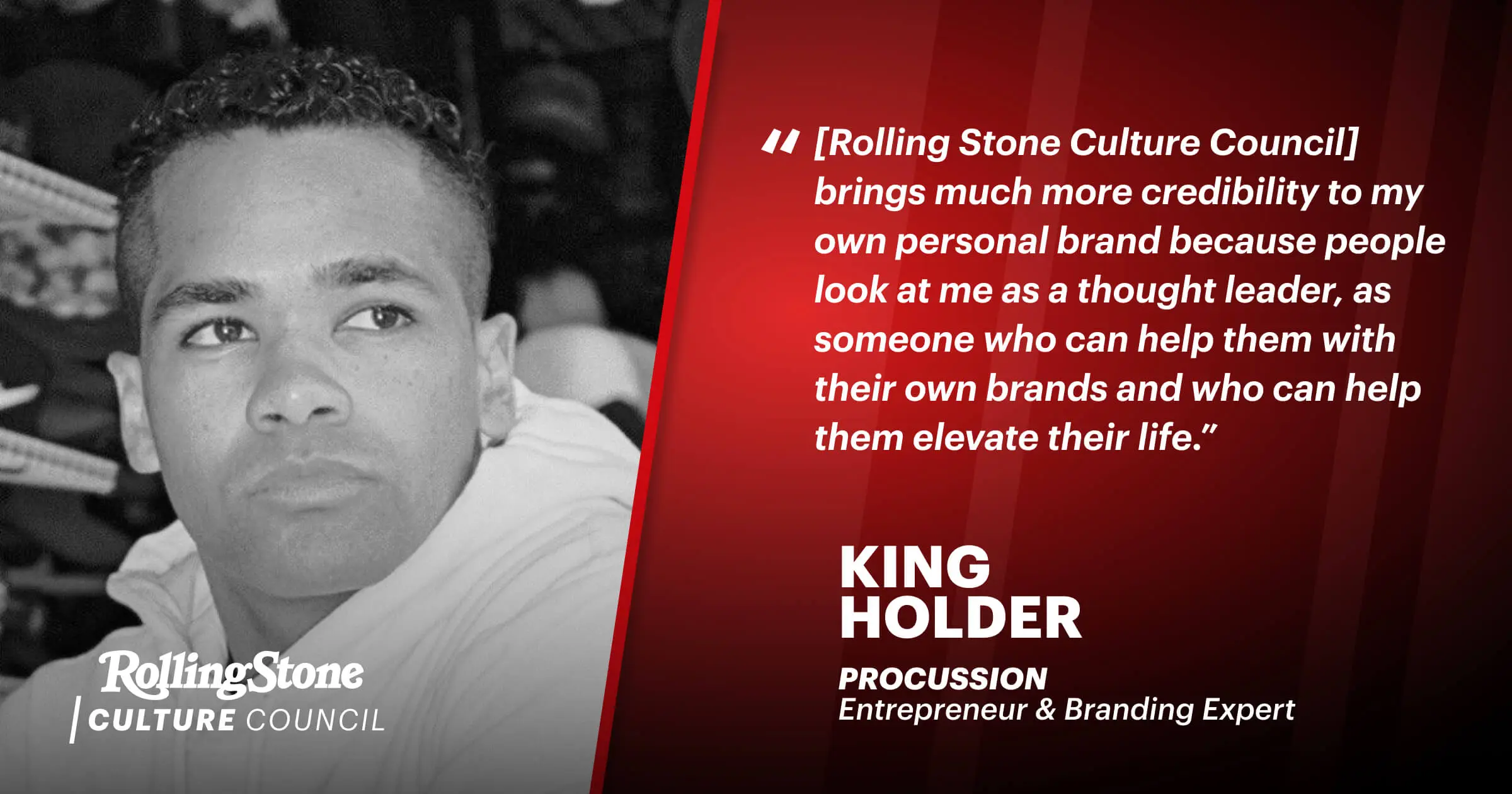 As a lifelong athlete, King Holder taught himself how to compensate for his size — 5' 9" and 165 pounds — by "running into the other person a lot harder than they're going to run into me." But that resulted in a multitude of injuries in high school and college. He got a full ride at San Diego State to play D1 football but dislocated both shoulders multiple times. "That introduced me to rehab and mobility stretching," Holder recalls. "In college or NFL football, you do not miss your rehab treatment or else you get a very strong punishment." That experience would ultimately lead Holder to a senior role at the franchise, StretchLab, and to launch his own company, Procussion, to make and market an innovative massage device.
But his path wasn't easy. After college, he couch-surfed, slept in his beat-up Jeep, and bought Little Caesars pizzas, which he made last for two days. "It was a bad period, for sure," Holder recalls. "But it was also hopeful. I'd be in the back of my Jeep, on my phone looking at yachts and mansions and thinking, I may be here now, but one day, if I just keep learning…"
To give himself some much-needed discipline, Holder flirted briefly with the idea of playing rugby. His natural athletic ability landed him an invitation to train at U.S. Olympic training centers. But when he was told he'd have to commit to at least a year or two of training before he'd be ready to try out for the Olympic team, he decided to "get my life started" and set his sights on business. He learned about Shopify, taught himself how to build websites, and planned to start an ecommerce business.
Along the way, Holder's aching muscles were crying out for a little help and he discovered an assisted stretching facility. "When I got stretched, it felt really good; I'd never experienced that before," he says. Assisted stretching is done by a trainer and is typically used to improve mobility, flexibility, and range of motion. When Holder moved to LA in 2017 and was looking for a job in the realm of athletics and sports performance, he came across a job opening at StretchLab. "I applied and pretty much got hired on the spot and I've been with the company ever since," he says.
"To learn from people within the Culture Council — to be part of a group of people from film, media, art, business, fashion in one centralized place where we're all trusted and vetted — was really enticing to me."
Holder has come a long way from sleeping in his car. He now oversees the number one StretchLab in the country, in Beverly Hills, in addition to three other studios. He's now a master flexologist and trains other therapists, handles marketing and partnerships, and produces educational videos that are distributed to the company's therapists nationwide.
Working with clients, Holder had used various massage guns but found them lacking. "They weren't designed by athletes, and they were large and very bulky to hold," he says. "And the price ranges were outrageous. I knew there had to be a better way." He came up with a design for a vibrating massage ball and began testing it on clients. But his side-hustle quickly grabbed his full attention during COVID, when public spaces were abruptly shut down. I had a lot of time to focus on Procussion," Holder says. "From morning to night, I was building everything, learning how to do product design, packaging, manufacturing — all things that I wasn't familiar with."
In the fall of 2021, Holder launched a new product on Kickstarter — an innovative dual-headed massage gun — that locked down nearly $30,000 in funding, or 200% of his target. He had been in stealth mode for more than a year, so by the time he launched, he had a finished product that was ready to go into production. "I really utilized my connections in the professional sports realm very heavily," he says. "I was able to get in very easily with all the friends I had in the NFL. They were all using it and taking it into the locker rooms. We have over 300 professional athletes using the devices today." But, says Holder, since the device, called the Surge, is competitively priced at $199, it's also accessible to the average consumer.
Holder says that Rolling Stone Culture Council "brings much more credibility to my own personal brand because people look at me as a thought leader, as someone who can help them with their own brands and who can help them elevate their life. It's allowed me to be of service to others." Holder is a consistent contributor to Expert Panels which gives him visibility "in the most iconic publication of all time." And, he adds, "to learn from people within the Culture Council — to be part of a group of people from film, media, art, business, fashion in one centralized place where we're all trusted and vetted — was really enticing to me."