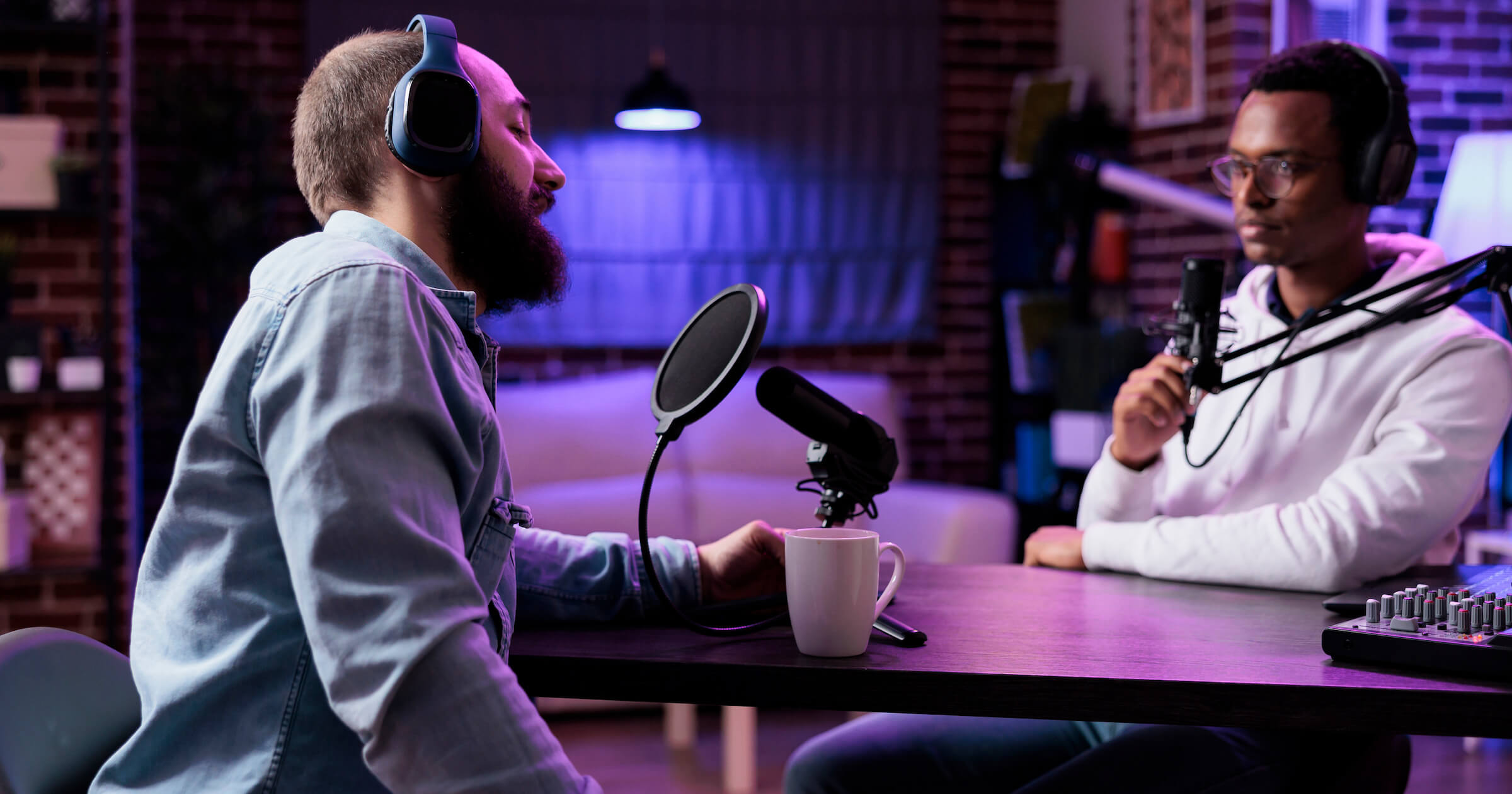 The music industry has developed many different ways to promote music. Musicians can go the traditional route and play gigs at local bars and clubs, or they can upload their music to streaming services like Spotify and Apple Music.
As a music industry executive and leader, you can also make arrangements to get plays on radio stations and websites. In addition, don't forget to consider creating and distributing a podcast.
Musician podcasts and other shows about the music industry have become increasingly popular in recent years and they offer lots of marketing potential. Remember that fans are always searching for the best musician podcasts.
Here's what you need to know about how to create and publish a podcast that will grow your fanbase and boost your music brand.
Why podcasting is effective marketing in the music industry
A music industry podcast can be a great way to increase recognition of your artists and their music, because the shows are typically focused on providing listeners with in-depth information about their favorite topics. This means that the audience is already engaged and interested in what you have to say. The podcast also keeps your listeners up to date with what you're doing.
Benefits of podcasting
The benefits include creating an online presence and networking with other musicians and music executives. In addition, podcasting can help you reach larger audiences, as most podcasts are syndicated across a variety of platforms. Finally, podcasts offer an accessible way to share your music with people who may not otherwise have access to it.
Who's your audience?
Before you get started one of the most important things to consider is who your intended audience is. Be sure to do some in-depth research on your target audience by interviewing some of your fans and followers, poking around inside online groups and forums to see what people are talking about, and watching trends in the industry. Find answers to the following questions and more like them:
What are their demographics? (age, gender, income, geographic location, etc.)

What do they love (inside and outside music)?

What do they hate?

Where do they hang out both virtually and in person?

What do they love about your music?

What do they love about other musicians' music?

What can you offer them that they can't get anywhere else?
What's your "why"?
Once you gather all that information you'll be able to identify the marketing niche and overall goals for the show.
It could be something obvious: generating leads and new fans. It could be primarily to boost your name recognition in the industry. Or it could be a little less obvious to the public, such as using the platform to become an innovative leader in your part of the music world. Or it could be part of your strategy to boost your knowledge and skills as a life-long learner as you interview others for your show.
It could even be to make a statement about something important to you. Or it could be a combination of these or other reasons.
Choose your format
Most shows have some consistency so listeners know what to expect. Is your show all interviews? Or all music? Or a combination? What will you share, and how?
You might consider the format of other popular musician and music industry podcasts and see what you want to emulate and how you can be remarkably different.
A key consideration is how long you think the show will be most of the time and how that affects your publishing schedule. Is it a kind of "quick bites" show - maybe 10-12 minutes - that you'll publish more often? Or a longer, weekly podcast - 30 minutes to an hour or more?
When you launch you'll want to have several episodes lined up in the pipeline so people can binge if they want to. Then after a couple of weeks with a more aggressive publishing schedule, you can shift into the schedule you're planning to maintain.
Name your show
With all that information, selecting a name is next. Apple suggests a clear, concise name that is relevant to what people search for. Make sure it expresses your brand identity and is memorable.
Plan the content
Decide on the content for each episode. You might want to focus on one artist or genre, or you might want to interview different musicians and industry professionals each week. Will you include music in each episode? How much?
You should also consider whether there are any recurring segments. For example, a "musician of the week" or a segment that focuses on a particular topic.
Prepare to record
Finally, once you've identified your content and format, it's time to start recording.
You'll need the right equipment, software, and processes for recording the audio. Creating high-quality content is essential if you want people to come back each week.
Tech tools you'll need
Sound quality counts just as much in a podcast as it does in your music. Whether your podcast is audio only or you also have a video version, the most important thing that will keep listeners coming back is good-quality audio; you always want to give your audience a great listening experience.
Of course, since you're involved in the music industry you probably already have access to the tech tools you need for a podcast. Just so you know, these are the basic tools you'll need to have on hand:
Top quality microphone

Audio interface, which is an optional piece of hardware that helps to capture high-quality audio

Windscreen or pop filter

Studio-quality headphones

Recording software like Audacity, Skype, or Zoom

Podcast editing software like Adobe Audition, Garage Band, or Audacity

Hosting sites like Buzzsprout or Libsyn that will help you get listed in Apple Podcasts, Google Podcasts, and Spotify
Your first episode
You may want to do a practice episode with a friend, so you can see what feels right as you speak, and what doesn't work for you. You don't want to find yourself rambling or you will lose listeners.
Once you feel comfortable with the format write out an outline for the show - or at least jot down some bullet points you plan to talk about. Then, recording from a place that doesn't have a lot of extraneous noise, record your first episode.
If you and one or two other hosts are all on the show regularly, it's possible your natural interactions will be part of the fan appeal; so strictly adhering to the outline would sometimes be unnecessary. Just decide in advance that's the direction you want to go.
Edit your audio file to take out pauses and anything else that is distracting.
Podcast artwork and music
Feeling good about the show now? Great! Now it's time to move forward with getting an artistic thumbnail and a memorable intro - with music, of course! - that reflect your show's name, style, and brand that you want listeners to relate to.
Remember that future listeners will see your artwork before they'll hear a single episode. Apple's artwork requirements include:
Must be original

Must contain your logo and show name

Size: 3000x3000 pixels

File type: JPEG or PNG
How to market your podcast
Create buildup for the launch of your podcast show by using all your channels: gigs, social media, email list, influencers, private and professional networks... Invite people to a launch party, either in person or virtually. Make a big deal about it and offer gifts for people who come!
Some ongoing personal and content marketing strategies to consider:
Ask family and friends to share it (even if they aren't your target audience, they may be happy to do you a favor)

Invite people who listen to your music already - at gigs and online - to listen to your show

Post episodes on social media

Send out episode links to your email list

Invite guests who have a following and give them the tools (links, graphics, summaries) to share easily

Use paid ads to grow your audience

Be a guest on other shows. Use this to

expand your network of contacts

Engage with people in your target audience in online forums (without pushing your show and sounding needy)

Create a strategy to

create buzz within your market

Connect with other

leaders in arts and culture industries

to support each other and offer best tips and strategies

Use a Call To Action (CTA) during each episode. Invite listeners to "subscribe and leave a review". Offer a lead magnet of some kind; maybe a unique song or other exclusive content they can't get anywhere else

Build your email list with your own show and your guest spots on other shows

Use analytics to see where you are gaining the most traction and double-down on those efforts.

Consider using

AI to automate and optimize your marketing campaigns
TL:DR
Be sure to do your research to determine who your target audience is and create a podcast format that will appeal to them. Set up the right tech tools for recording and editing, pick a name that reflects your brand, plan out episodes with consistent content, get creative artwork designed for your podcast, and promote it on all your channels.
Once your music podcast is up and running, it's a great way to promote your personal brand as an artist, promote your music business, and reach new audiences. You can use the platform to share stories of your musical journey, discuss the music industry, and even bring on guest musicians. With a little bit of effort, you can build a loyal fanbase and boost your music career.
Join the fastest-growing professional arts and culture organization, full of industry-disrupting founders, Rolling Stone Culture Council.
Click here to see if you qualify.