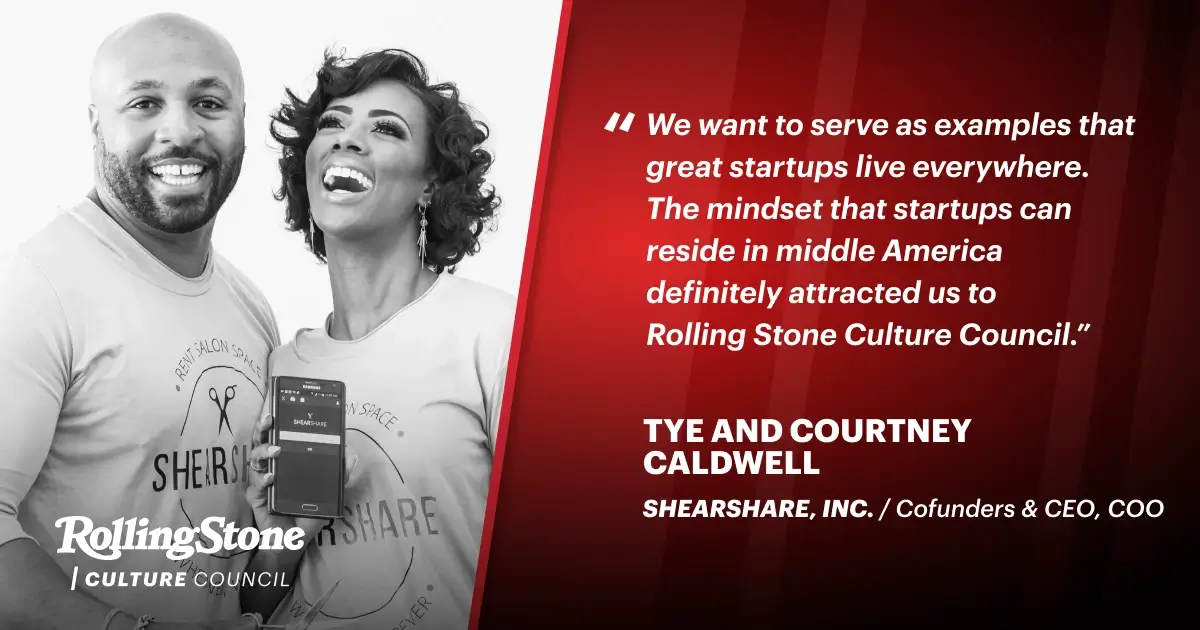 "People sometimes call us Hairbnb," says Courtney Caldwell. She and her husband, Dr. Tye Caldwell, founded ShearShare, an app that connects beauty and barber businesses with independent professionals who rent chairs on an as-needed basis. She's the digital marketing wiz and he's the beauty industry veteran who's run an award-winning salon for more than 20 years. They came up with the idea for ShearShare based on a need at Tye's salon in Plano, Texas.
"Back in 2012, I had just rebranded and expanded but we saw that our empty chairs and suites were not really getting the love that we expected," recalls Tye. At around the same time, the gig economy was taking off and professionals in all industries were using technology and social media to become solopreneurs and build their own brands.
Tye was approached by a stylist who was moving to another city in Texas but wanted to maintain a relationship with a salon in Plano so that she could continue to serve her loyal clients. Would he be interested in renting space to her as she needed it? She didn't want to be a part-time employee, or beholden to a long-term contract. It was an unorthodox request and both Caldwells were skeptical at first. "Who does that?" Courtney recalls asking Tye.
But Tye was looking to fill his excess capacity. He inked an agreement with the stylist, charging what he thought was a fair rate. "Then we had her friends and their friends coming to us and asking if we could help them," he says. "Tye came home and said 'this needs to be an app,'" recalls Courtney, who was working for Oracle at the time. They looked for an app that they could refer independent stylists to, but found nothing. "We could not find the app [we needed], so we created the first app that allows for daily salon and barbershop booth rental," says Courtney.
The Caldwells bootstrapped the first ShearShare app by tapping their savings and hiring a third party engineering firm. "When we ran out of savings, we went to the 401(k) which was very scary at the time," says Tye. They cold-called salon owners to populate the app with hosts. Like Tye initially, many were skeptical of the model. "But because Tye is a salon owner and operator, he was able to have those conversations with salon owners, tell them about his own experience and help them understand the value," says Courtney. "That's how we signed up the first 100 hosts on ShearShare."
"We're a great startup that can help and be a direct connection for [Culture Council members] looking to talk to people who are running in this same lane," says Tye.
Inbound inquiries from salon owners came so quickly that ShearShare outgrew its rudimentary app which, Courtney says, "still felt very, very manual." Stylists and salon owners wanted more pictures, more communication tools, and better automation. But better technology would require a significant cash outlay. "We weren't even thinking about growing fast, we just wanted to keep pace with what people were asking for," says Courtney. They decided to start entering pitch competitions and soon found that their story and their Airbnb model appealed to Silicon Valley. ShearShare pitched at Google Demo Day in 2018 and walked away with the Judge's Favorite award. That attention earned them seed funding from AOL founder Steve Case's Revolution Ventures. Suddenly, the little company from Texas was a Silicon Valley darling. ShearShare now has a total of $3.4 million in venture capital funding, $2.3 of which was raised last November in the middle of the pandemic. In the process, Courtney earned the distinction of being the 33rd Black woman to raise more than $1 million.
While ShearShare — and its users — have been hit hard by COVID, the Caldwells have never doubted that their industry will recover. "There's never going to be a time when hairstyle or makeup becomes obsolete," says Courtney. They've kept their customers engaged by adding a virtual beauty supply store to the ShearShare platform, where salon owners and independent stylists can sell their products. And they've positioned their company as a valuable source of information customers use to build their own companies; ShearShare has helped more than 125 stylists get approved for PPP. "Educating them was one of the ways we were able to get people who were first denied a second chance, and then they were approved," says Tye. Courtney and Tye feel strongly that their mission goes beyond filling empty chairs. "We're growing this into an ecosystem that provides B2B tools for this industry," says Courtney. The company even partners with Lloyds of London to offer stylists professional liability insurance for five dollars a day.
The Caldwells are looking forward to becoming part of a larger community of entrepreneurs through Rolling Stone Culture Council. "We're a great startup that can help and be a direct connection for [Culture Council members] looking to talk to people who are running in this same lane," says Tye. And as successful Texas entrepreneurs, the Caldwells believe they send an important message to the world. "We want to serve as examples that great startups live everywhere," says Tye. "The mindset that startups can reside in middle America definitely attracted us to Rolling Stone Culture Council."